The Ultimate Guide to Develop Your On-Demand Additive Manufacturing Strategy
This ebook is designed to:
Assist organizations with existing AM strategies to scale their additive initiatives in preparation for on-demand manufacturing.

Help OEMs and MROs focusing on low and mid-volume production identify opportunities to harness manufacturing capabilities that enable on-demand production.
Submit the form to gain access to your free eBook!
On-Demand Manufacturing Roadmap
This guide is meant to help CIOs, service operation managers, supply chain managers, AM experts, and engineers create a strategic roadmap for on-demand manufacturing.


In this eBook, you'll learn:
Reasons why you should pursue an on-demand manufacturing strategy.
Five keys to successfully implementing your on-demand manufacturing strategy and building more robust supply chains.

Two validated use cases from the railway and automotive industries.

How to assess and select the right on-demand manufacturing software partner.
Download eBook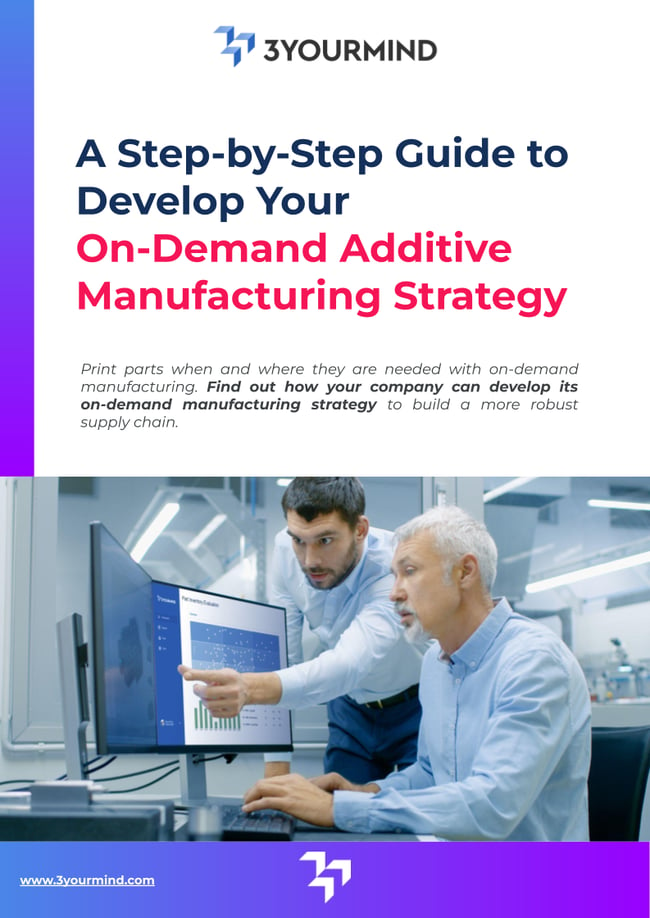 What Industry Leaders Say...
"WABTEC was one of the first companies to introduce Digital Warehouse. The idea was to avoid any stoppage of maintenance or breakdown on our customer's, so we've implemented some data acquisition and platforms (like 3YOURMIND) to be able to monitor our stock and to be able to respond quickly when there is an issue".


- Henri de Chassey, Additive Manufacturing Engineer Manager at WABTEC Corporation
This experience has opened my eyes to see that excellent and great software can eliminate all non-value-adding activities and integrate workflows. Now, hundreds of engineers on our site are producing parts, designing them, and sending them over. They can see the cost of the part before ordering, they can see in real time how the part is going to be produced, and they get status messages informing them when they can pick it up".
- Jaime Ortiz-Cañavate, Manufacturing and Plant Engineering Manager at Ford Valencia Engine Plant