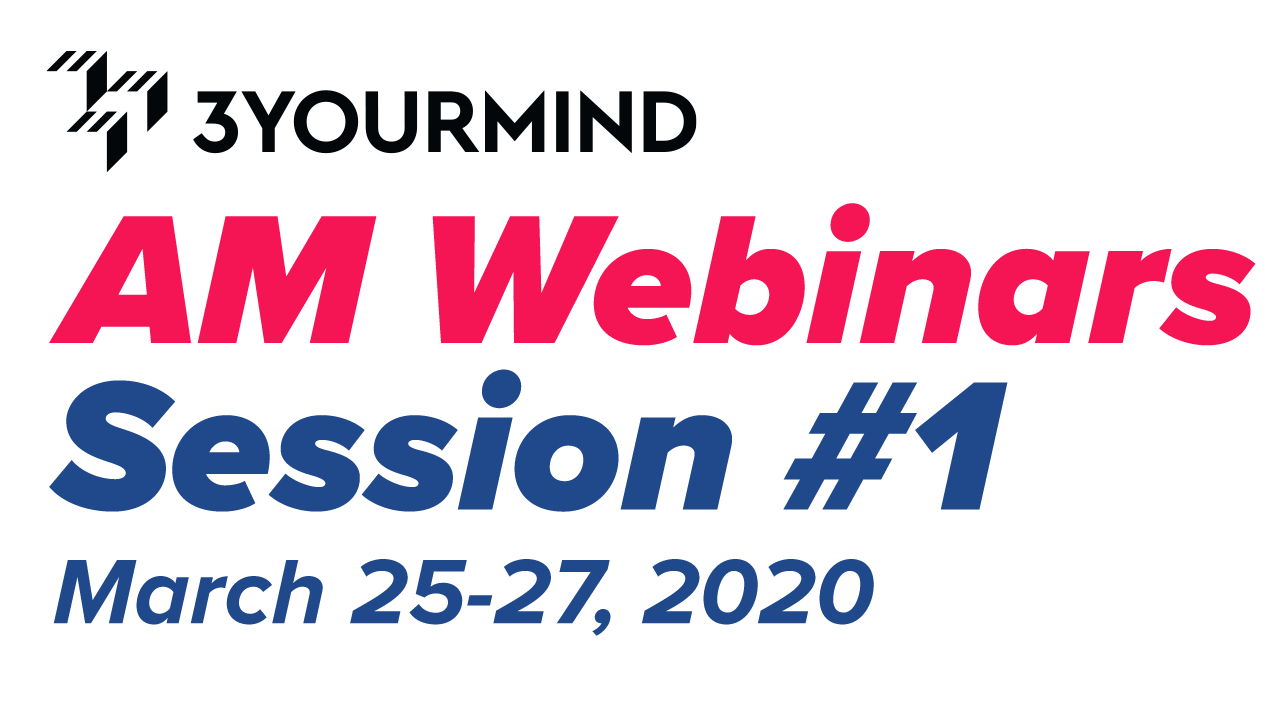 Event Übersicht
Datum
25. - 27. März 2020
Sprecher
William Cuervo, Marie Thiébault, Jakub Karkocha
Über
Um sich für die Webinar-Veranstaltungen zu registrieren, wählen Sie auf der Veranstaltungsseite einfach aus, an welchem der drei Webinare Sie teilnehmen möchten (Oder entscheiden Sie sich für alle drei!). Die Informationen sind für verschiedene Stufen der Skalierung der additiven Fertigung konzipiert, von der Suche nach AM-Anwendungsfällen bis hin zur Skalierung der bestehenden Produktion, und finden in englischer Sprache statt.
Aufschlussreich. Aktuell. Und kostenlos verfügbar.
Die Anmeldung läuft! Scrollen Sie nach unten, um die einzelnen Präsentationen zu sehen. Die Webinar Series wird gänzlich auf Englisch durchgeführt.
Präsentationen
Examining the Three AM Workflow Steps with the Highest Automation Potential
After visiting 3D printing services and AM departments at leading manufacturers, three opportunities for automation regularly come to the forefront: reordering parts (Digital Inventories), scheduling the production floor (MES Software) and Tracking and Quality Assurance. The companies that can automate these steps in the workflow can expect to reduce their time spent to drop by 60-80%.
25. März 2020
19:00 Uhr - Mitteleuropäische Standardzeit
11:00 Uhr - Pazifische Standardzeit
14:00 Uhr - Östliche Standardzeit

Auf Livestorm registrieren
How will Erpro optimize AM production for 17 million parts?
One of the most visible serial applications in additive manufacturing is Erpro Group's 3D Factory who have produced more than 17 million 3D printed mascara brushes for Chanel. In 2020, they plan to double or triple the number of serial production lines they run - but without significantly increasing manpower. To hit that goal, they are putting tools in place to optimize their production lines. Most important will be reducing the number of manual steps and moving to a digital, paperless workflow.
26. März 2020
16:00 Uhr - Mitteleuropäische Standardzeit
8:00 Uhr - Pazifische Standardzeit
11:00 Uhr - Östliche Standardzeit
Auf Livestorm registrieren
Helping Application Engineers Find the Most Valuable AM Parts for Production
Most companies still struggle to build a collection of parts that are suitable additive manufacturing. Our experience over the years is that only one in one hundred 100 parts in the average inventory are good additive manufacturing use cases. The problem is there is no efficient way to find those parts. Evaluating that many parts manually erases the majority of the savings from switching to additive manufacturing - if someone takes the time to even look.
27. März 2020
16:00 Uhr - Mitteleuropäische Standardzeit
8:00 Uhr - Pazifische Standardzeit
11:00 Uhr - Östliche Standardzeit

Auf Livestorm registrieren