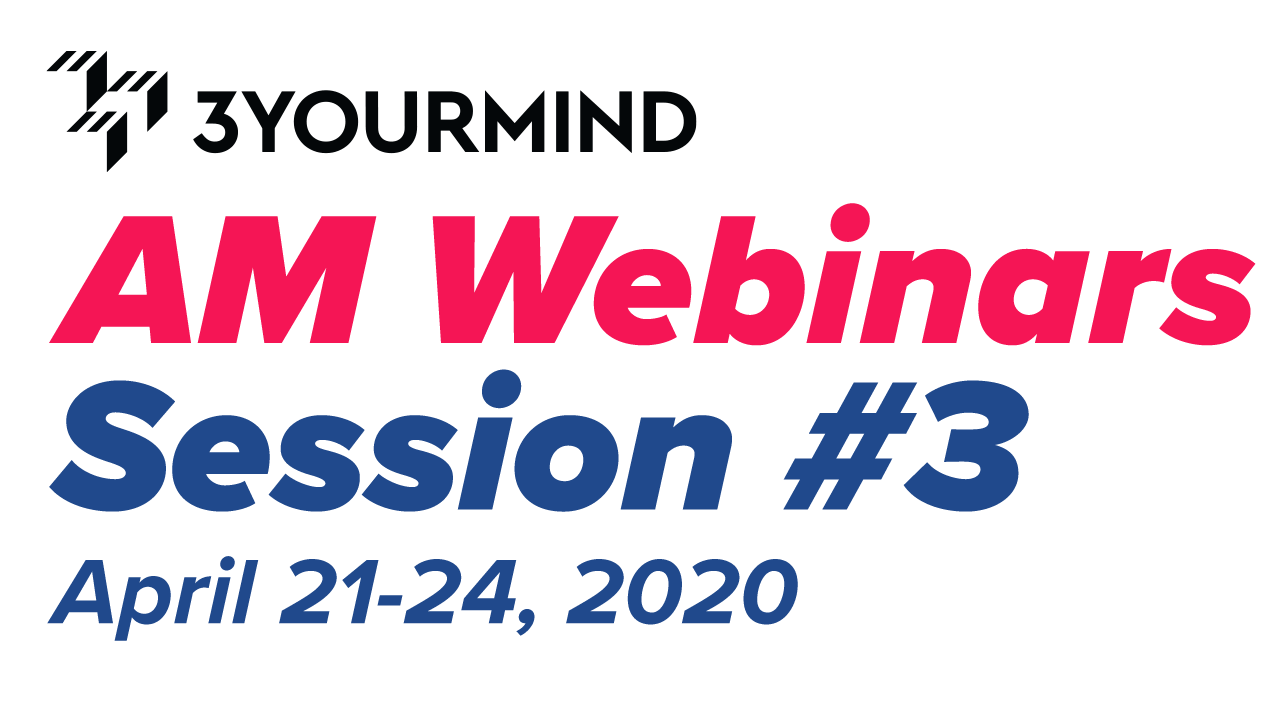 Event Overview
Speakers
Alexandre Donnadieu-Deray, Brian Crotty
About
To register for the Webinars, simply navigate to the event page and select which of the webinars you would like to attend. Or simply attend them all! The information is designed to help at various stages of scaling additive manufacturing from finding AM use cases to scaling existing production.
It's educational, it is current and it's free.
Registrations are open. Please scroll down to access the links to Livestorm Webinar platform for each of the presentations.
Presentations
Alexandre Donnadieu-Deray
Managing Director, North America
The US has embraced additive manufacturing with the enthusiasm and ingenuity. 3YOURMIND is focusing on serving North America because using software to establish a new level of optimization and automation will ensure that the country maintains its status as a global leader of manufacturing.
Building a digital warehouse (and learning AM Agility from Crisis Response)
COVID-19 has brought 3D printing into the spotlight as a stop-gap measure for rapid manufacturing response. But the last few weeks have shown that producing medically-approved 3D parts while negotiating IP and safety considerations is a much bigger problem. With adequate preparation, AM can also fill those gaps to provide a digital stock of spare parts in an industrial environment.
Fabian Alefeld from Additive Minds of EOS North America and Alexandre Donnadieu from 3YOURMIND USA will present the lessons learned from responding to the crisis and what adjustments need to be made to digital production streams.
Rapid adjustments in supply and demand can stem from a medical crisis, natural disasters, a breakthrough technology or even shifts in product demand from social influencers. Now is the time to start building resilient systems and putting agile processes into action.
Tuesday April 21, 2020
6pm - Central European Standard
8am - Pacific Standard Time
12noon - Eastern Standard Time
When do AM Competency Centers Need 3D Printing Software?
3D printing is already used by more than 50% of companies, but there is still a minority who require a robust software solution. The companies who have reached this milestone need a digital solution to manage the large volume of orders and access levels throughout their organization. Brian Crotty will provide an overview of specific signs that your company has reached a scale or level of complexity that requires a digital structure.
He will also detail why enterprise companies are opting for the competency center model and how to transition from smaller production streams into a focused management solution that is accessible to the entire company.


Friday April 24, 2020
4pm - Central European Standard
6am - Pacific Standard Time
10am - Eastern Standard Time