3YOURMIND and Arkema Announce 'Easy 3D' Material Ecosystem
Product
News
3YOURMIND
|
November 14, 2022
| 3 min read
3YOURMIND and Arkema have partnered to create a customer platform providing material suggestions and a supplier network for on-demand manufacturing.
FOR IMMEDIATE RELEASE

November 14, 2022, BERLIN – On-demand manufacturing software provider 3YOURMIND and material experts Arkema have announced 'Easy 3D' – an online platform connecting Arkema customers to suppliers offering Arkema materials.
By adopting this platform, engineers gain access to Arkema's powerful material recommendations, which support decision-making and part application development for on-demand manufacturing. In addition, the new platform leverages 3YOURMIND's digital expertise by creating a complete network that enables users to order parts utilizing the best materials, technologies, and additive manufacturing (AM) suppliers.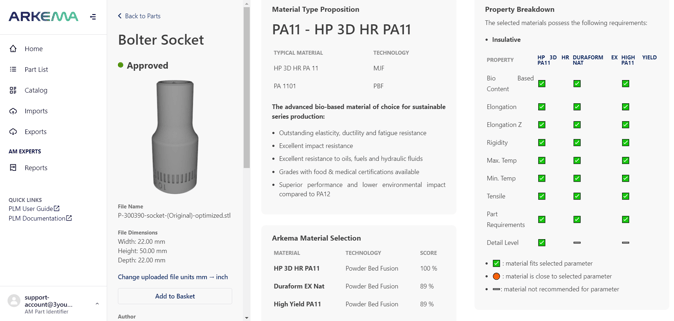 Customers can compare materials based on performance parameters.
The Easy 3D platform creates a simple process for users to request parts from Arkema's supplier network based on specific material requirements. Customers can securely upload their part information to the Easy 3D platform to evaluate and compare production methods utilizing different Arkema materials. Then, customers can leverage 3YOURMIND's in-platform capabilities like printability analysis, automatic price quoting, data analytics, and production and shipping transparency to streamline part-ordering efforts.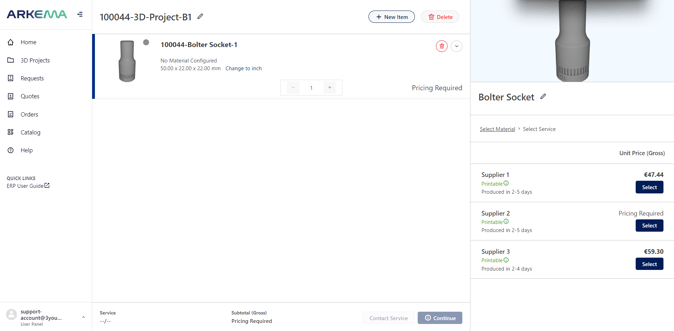 Customers can use the platform to select from Arkema-affiliated suppliers to produce parts on demand.
As a result of using the Easy 3D platform, customers will experience several exciting benefits from 3YOURMIND's intuitive, user-friendly software, including:
Less time identifying and qualifying parts for AM use cases.
Faster order-to-production timelines with automatic price estimates.
Centralized communication platform to improve transparency and share production and shipping updates.
"As a material provider, Arkema's expertise ensures that AM materials are suitable for certain applications," says Stephan Galozy, Vice President of Product at 3YOURMIND. "Our customers will benefit from it as they can trust that all suggested materials by 3YOURMIND software are market proven and significantly reduce the time for qualifying parts."

The partnership between Arkema and 3YOURMIND demonstrates a shared vision to accelerate on-demand manufacturing to develop more resilient, and sustainable supply chains focused on valuable business cases.


"As pioneers in 3D printing, for over 20 years, we've developed high performing materials enabling applications such as automotive and aerospace parts, customized consumer goods, prosthetics, dental models and implants, head protective gear etc.," says Pierre Gonnetan, Key Account and Business Development Manager at Arkema.

"We continue the co-innovation with our partners and customers to expand the possibilities in additive manufacturing. This platform is the perfect fit between Arkema material and 3YOURMIND's digital expertise, ensuring it will bring value to users – we are delighted to collaborate on such an innovative initiative to support AM adoption!"
Meet at Formnext in Frankfurt, Germany on Nov. 15-18!

Arkema: HALL 12.1 - BOOTH #C129
3YOURMIND: HALL 11.1 Booth #D58
About Arkema:

Building on its unique set of expertise in materials science, Arkema offers a portfolio of first-class technologies to address the ever-growing demand for new and sustainable materials.
With the ambition to become a power player in specialty materials by 2024, the group is structured into three complementary, resilient, and highly innovative segments dedicated to specialty materials, including adhesive solutions, advanced materials, and coating solutions. These segments account for some 85.5% of group sales in 2021 and are well-positioned and competitive intermediates segments.
About 3YOURMIND:
3YOURMIND is an on-demand manufacturing software platform that empowers companies to identify and produce parts as needed. OEMs, operating companies, and contract manufacturers can create digital inventories of qualified parts that reduce costs, shorten production lead times, and secure more efficient and agile operations. 3YOURMIND addresses companies' current needs to produce spare parts quickly while enabling advanced manufacturing technologies and data-driven decision-making to create new parts faster, lighter, and with cost-saving potential.