3YOURMIND Selected to Present at Hexagon's Sixth Sense Summit
News
3YOURMIND
|
January 26, 2023
| 5 min read
FOR IMMEDIATE RELEASE:
3YOURMIND Selected as Featured Participant at Hexagon's Sixth Sense Summit
26 January 2023, BERLIN/The Hague, Netherlands – 3YOURMIND has been selected to participate at the Sixth Sense Summit, powered by Hexagon, on February 1st, 2023, in The Hague, Netherlands. Held at Titaan Innovation Hub, 3YOURMIND will be one of eight invited companies to present to a panel of experts from the manufacturing industry. As a result of the summit, three concepts will be selected to receive access to Hexagon's full suite of products and services, incorporation into Hexagon's ecosystem, and exposure to Hexagon's coveted customer base.

The invite-only event will include technology showcases in smart automation, artificial intelligence, sensors, sustainability, robotics, and mixed reality. As a Sixth Sense Summit participant, 3YOURMIND co-founder and CEO Aleksander Ciszek will demonstrate how 3YOURMIND's on-demand manufacturing platform closes the loop in additive manufacturing between part identification, part qualification, order management, and production. In addition, Ciszek will exhibit how the 3YOURMIND platform empowers organizations to build digital inventories of parts that can be produced at or near their end location or within a distributed manufacturing model.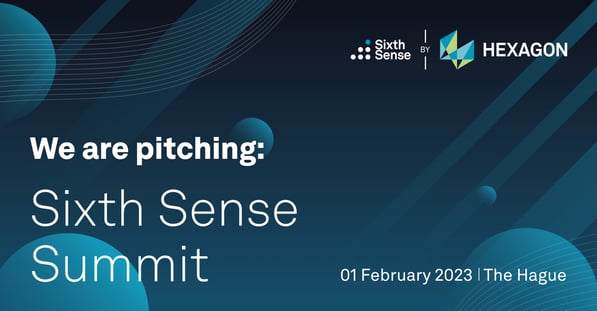 3YOURMIND has already developed a strong working relationship with automotive, energy, transportation, and defense customers, including German national railway company Deutsche Bahn and the United States Navy. In addition, in March of 2021, 3YOURMIND launched the 'Stand With Ukraine' initiative, in collaboration with the members of the 3D printing community, to lend its platform to 3D makers from around the world to print and distribute parts to aid Ukraine's humanitarian and defense efforts. As a result, over 38,000 parts, including tourniquets, have been produced and delivered, which are estimated to have saved over 30 lives.

Sixth Sense, which is an affiliate of Hexagon's Manufacturing Intelligence division, is an open innovation platform created to bring scaling start-ups and world-class companies together, sharing resources, data, and ideas to accelerate progress and solve real-world problems. Worldwide, Hexagon technologies are used to manufacture 95% of all cars, 90% of all aircraft, and 85% of all smartphones. In addition, Hexagon invests up to 12% of its annual revenue back into R&D – well above average for a tech company.
Milan Kocić, Head of Sixth Sense, Hexagon's Manufacturing Intelligence division:

"Manufacturing is one of the oldest and most fundamental industries still around today and has an enormous role to play in how we address large-scale societal and technological challenges. From sustainability, to enabling future mobility, so much of this starts in our factories, in the design of our products, our tools, and our infrastructure. The scale of these challenges and the innovation needed to meet them necessitate collaboration – international, interdisciplinary, and across the ecosystem. Sixth Sense is designed to help foster that collaboration."

Aleksander Ciszek, CEO and Co-Founder of 3YOURMIND:
"Manufacturing is reaching a critical point where introducing new production technologies and innovations isn't a luxury; it's necessary to maintain critical infrastructure and supply chains. The Sixth Sense Summit represents a powerful opportunity for 3YOURMIND to demonstrate our capabilities to resolve manufacturing challenges and share ideas with leading companies and experts in the industry to draw the road map that will influence the next generation of manufacturing technologies."

LINK TO MEDIA ASSETS

Please RSVP to secure your spot via this form.

Parts of the event will be livestreamed, including our presentation. You can watch the livestream on 1st February 2023 from 08:00 PT/11:00 ET/17:00 CET/22:30 IST – register here: https://sixthsense.hexagon.com/livestream/.

About Hexagon:
Hexagon is a global leader in digital reality solutions, combining sensor, software, and autonomous technologies. We are putting data to work to boost efficiency, productivity, quality, and safety across industrial, manufacturing, infrastructure, public sector, and mobility applications.

Our technologies are shaping productions and people related to ecosystems to become increasingly connected and autonomous – ensuring a scalable, sustainable future.

Hexagon's Manufacturing Intelligence division provides solutions that use data from design and engineering, production, and metrology to make manufacturing smarter. For more information, visit hexagonmi.com.

Hexagon (Nasdaq Stockholm: HEXA B) has approximately 22,000 employees in 50 countries and net sales of approximately 4.3bn EUR. Learn more at hexagon.com and follow us @HexagonAB.

About 3YOURMIND:
3YOURMIND is an on-demand manufacturing software platform that empowers companies to identify and produce parts as needed. OEMs, operating companies, and contract manufacturers can create digital inventories of qualified parts that reduce costs, shorten production lead times, and secure more efficient and agile operations. 3YOURMIND addresses companies' current needs to produce spare parts quickly while enabling advanced manufacturing technologies and data-driven decision-making to create new parts faster, lighter, and with cost-saving potential.
Learn more at 3yourmind.com or follow us on LinkedIn.