How is 3D Printing Affecting Architecture?
Brian Crotty | August 23, 2016 | 4 min read
The craft of architecture is part of the wave of industries being reshaped by 3D Printing. While the press has been centered around large-format 3D Printing of office buildings in Dubaï, many fundamental, simple workflow changes are already being utilized within architecture firms to improve the speed of design iterations and quality of presentation detail. 3D printing allows for the complex forms of modern architecture to be easily created and refined as visual models prior to construction. Architecture firms that maximize the additive technologieswill be able better integrate visuals into presentations and understand additive manufacturing when it becomes applicable for architecture on a larger scale.

Leading image is the Leonardo Glass Cube in Bad Driburg, Germany (photo from Emanuel Raab)
Complex Aesthetics in Architecture
Over the past several decades, architecture has increasingly shifted away from the square forms that resulted from only building as efficiently as possible. The 19th Century was defined by grandiose architecture with a primary emphasis on aesthetics. The result was beautiful buildings with little attention paid to the practicality of day-to-day use.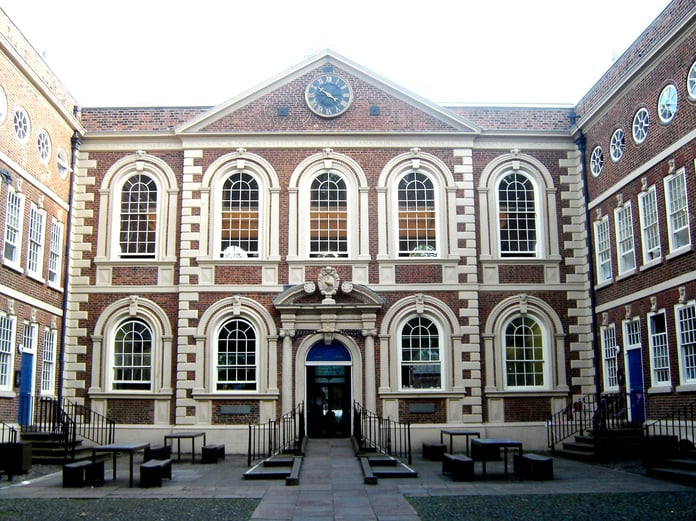 Bluecoat Chambers, Liverpool, England (photo from John Picton)
The 20th century modernism shifted the pendulum far away from decoration - almost entirely to function. The result was a city full of squares. Postmodernism tried to bring decorative architecture to be once again combined with modern materials but the resulting "Brutalism" was far away from the elegance of pre-WW1 architecture. As Walter Gropius, one of the intellectual leaders of the Bauhaus movement stated:
"Our guiding principle was that design is neither an intellectual nor a material affair, but simply an integral part of the stuff of life, necessary for everyone in a civilized society."

Walter Gropius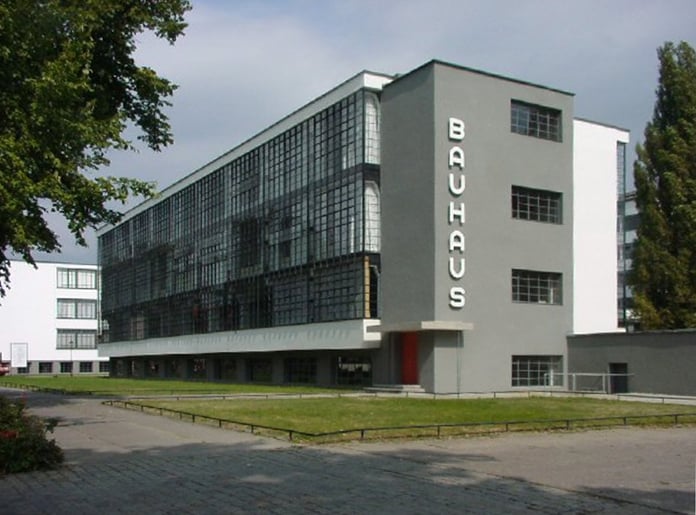 Bauhaus Building, Dessau, Deutschland (photo from Detlef Mewes)
Beginning in the 1980s, a multi-disciplinary approach to architecture and the influence of environmentally sustainability have brought a much more holistic and human approach back into new buildings. Now - it is generally recognized that the soft organic forms characteristic of biophilic design also have a long term economic impact on construction projects (Terrapin Bright Green - The Economic of Biophilia). The result has been a huge leap forward in modeling and design capabilities within architectural software to create buildings with artful exteriors that can still be analyzed for structural and legal considerations.
For architects used to delivering projects on tightening budgets - the question became how can these complex forms that are increasingly in demand be visualized without a screen?
New Technology Enables Complexity in Modelling
In the past century, when calculation related to architecture was done by hand - there was a shift away from flowing forms to "stable squares" which easily fit into calculation models, particularly for early computer systems. Now computers can once again do the modeling and testing to ensuring that modern building forms have the structural stability required to meet the local building codes. The obstacle most architects now face is convincing the building owner about an organic design that cannot be easily visualized or created with old modeling techniques like laser cutting or CNC Milling.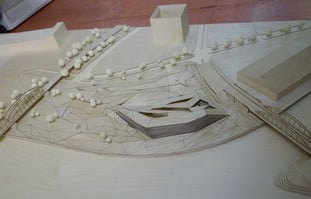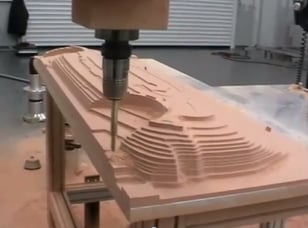 Laser Cut Hotel Landscape & CNC Cut Topography Model - photo from Michaela Mastikova and from Michaela Mastikova)
When 3D Printing began to become more widely available in 2010, several architecture firms immediately saw the potential to realize their models using 3D Printing. By either printing in-house, or using a 3D Print service provider, it allowed for the forms to be created with an astounding degree of accuracy irrespective of design complexity. Because 3D Printing allows for a high level of detail without any real trade-off to time cost, it enables architecture to approach an art form more like sculpture.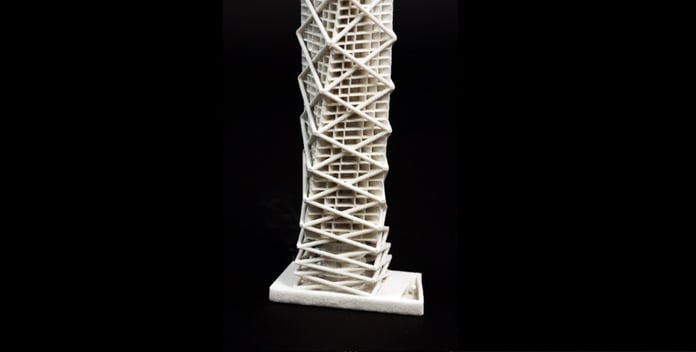 3D Printed Office Tower with Twisting Core and Overlain Architectural Element (photo from 3YOURMIND)
Efficient Workflows - 3D Printing from Architectural CAD
Architectural models can send directly from CAD to be 3D printed because both rely on the same additive geometry as their starting point. That means that unlike for other computer-aided modeling methods like laser cutting, an architectural model is essentially an exercise of export-print rather than a new design project.
Working in the same geometry eliminates a significant amount of work. But tools continue to be developed to make that process even simpler for novice users to optimize their design to print in-house. Or there are options to connect to a variety of 3D printing services through online platforms to get access to additional materials and quick delivery times without having to hire additional staff or purchase additional machines.
There is also a development of direct integrations into the key industry software platforms like Revit and Rhino. Architects don't even have to leave their existing software to send models to industrial quality 3D print services. For the average architecture firm, 3D printing represents a big leap forward in the speed and quality that they can iterate ideas.