Polymers for Apium's FFF 3D Printing
Interview
Brian Crotty
|
February 28, 2017
| 5 min read
In this interview with Apium, learn how high-performance polymers can be applied in various industrial applications in the fields of prototyping, R&D, individual parts, and small batches.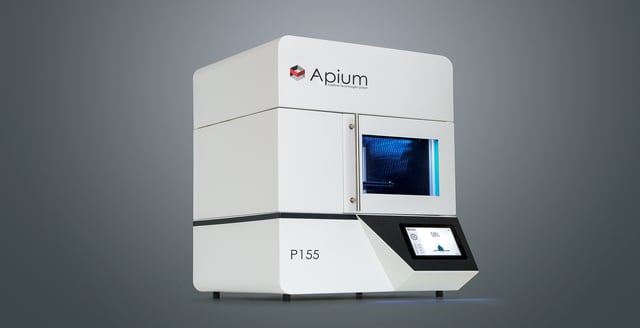 Apium is one of 3YOURMIND industrial 3D printing services. The company's application researcher, Philipp Renner, provides insights into their technology, their material selection, and mechanical properties in an exclusive interview.
What is FFF 3D Printing and what are the primary differences between that and standard 3D printing?
During the process of Fused Filament Fabrication (FFF) 3D printing technology the filament, as a kind of polymer strand, is melted through a nozzle and laid down in different layers to build up the part. The main difference between Apium's FFF technology and other services is that we only use high-performance polymers instead of ABS, PLA or other "convenient" plastics. This makes Apium's FFF a unique 3D printing technology within the market. Our technology is creating new possibilities for applications in a variety of different industries.
You are one of the few locations that is printing regularly in PEEK. Can you describe the unique properties of the material? Are there any differences in how 3D models need to be created to utilize PEEK?
PEEK is a polymer that comes along with a wide range of operating temperatures (-196 °C to 260 °C), chemical and high wear resistance, the capability of withstanding high pressures, excellent frictional behaviour, dielectric strength, low flammability, toleration towards gamma radiation and stability against hydrolysis. Models created with PEEK in mind are subject to the standard design rules of FFF 3D printing.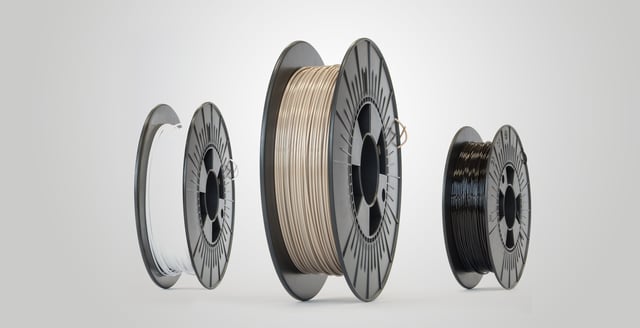 What other unique materials can you print with your service?
During the infancy of our technology, the primary focus was on PEEK. Since then, this has expanded to include a range of high performance polymers; consulting with partners and companies across all major sectors we have sought to determine the ideal materials to combine with our technology. As a result, our material range consists of PEEK, POM-C, PVDF, and PEI Ultem, and we are continuously working to expand this based on feedback from the market. Those high-performance polymers are more difficult to print but can be applied in various industrial applications in the fields of prototyping, R&D, individual parts or small batches. Currently, significant efforts are being made to optimise the printing process for reinforced PEEK filaments, which we aim to provide in time to accompany the release of our P220 model.
What is the most challenging 3D print you have done in the past 3 months?
One of the most challenging 3D prints was a fluid spin mixer we printed in different materials. The challenging part was printing the fine channels inside the mixer with a smooth surface, a challenge our printing technology and 3D printing system managed exactly as expected and desired. A part like this was, due to its complexity, not suitable for other manufacturing processes like CNC milling or injection molding.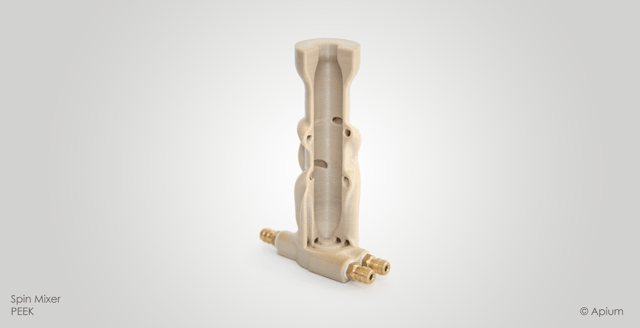 Which industries are your main customers? Are there any that have increased significantly in 2016?
Our technology supports applications across all major industry sectors and the demand reflects this. PEEK for example can be used in aerospace, semiconductors & electronics, automotive, oil & gas, and medical industries. The demand from all these sectors has increased markedly since the introduction of our technology. We attribute this in part to the growth of the company and the attention this demands, as well as the desire across industries to reduce costs within their product development chains and the recognition of our technology as a solution.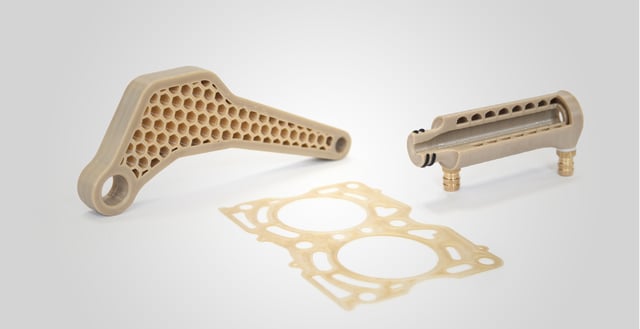 What do you think is the next step to have FFF 3D prints become a more common part of usable products?
Naturally, there's been an initial reluctance/apprehension to adopt a new technology. This is understandable, particularly when you consider the applications our technology is intended for and the associated demands.
We must also consider that 3D printing in general, is an underutilised tool within all industries, particularly for end-user applications. This increases the reluctance of potential adopters, as there remains an uncertainty as to the viability of the technology. The data shows that Apium's technology is comparable with traditional manufacturing processes for many applications and this has been supported by recent acquisitions, which suggest that we are beginning to surpass that initial apprehension.
To establish the technology further, the focus must be placed on increasing awareness and understanding of the benefits of FFF 3D printing. This is something we are committed to addressing by providing training, seminars, and workshops.
We are also working with early adopters to compose case studies showcasing the efficacy of our technology and in turn allowing those considering utilising Apium's FFF 3D printers to make a more informed decision.

Apium Additive Technologies GmbH is a technologies based company located in Karlsruhe, Germany. The company provided the first commercially available PEEK filament and developed the first filament based FFF 3D printer optimised for processing high performance polymers used in industrial applications.
With our research and development studies, we aim to provide innovative industrial solutions based on the fused filament fabrication (FFF) 3D printing technology and high performance polymers. We have a vision to become a professional leader in the field of FFF 3D printing technologies.