Metal 3D Printing at Production Speed - Interview
Interview
Ana Carolina Rocha
|
November 7, 2017
| 4 min read
SPEE3D is an Australian company that's gaining significant visibility within the additive manufacturing industry for their innovative metal 3D printing technology. It is called supersonic 3D deposition (SP3D) and it is based on a technology that was originally developed for use in the military and for repair applications.
The process uses a rocket nozzle to accelerate air up to three times the speed of sound and deposits powders injected into the nozzle onto a substrate that being moved by a six-axis robotic arm. This range of motion enables the 3D print of 45-degree overhangs without requiring support structures or cooling channels.
In an exclusive interview with 3YOURMIND, SPEE3D's CEO and co-founder, Byron Kennedy gives us his insight on Metal AM production.
Video Source: SPEE3D
1. Your production method drastically reduces the metal 3D production time. What are the trade-offs against current metal AM production methods?
SPEE3D uses supersonic 3D deposition (SP3D) to make metal parts focusing on aluminium and copper parts, but other diverse materials will follow.
The main difference undoubtedly lays in the speed of part production. While other 3D printing technologies need hours or days to manufacture parts, we produce them in a matter of minutes. A recent demonstration with one of our customers included the printing of a flywheel in only 11 minutes, 38 seconds. Conventional 3D printing processes would normally take about 20 hours for the production of the same part.
Our main competitors are traditional manufacturers that utilize methods such as sand and die casting, and not other 3D printing companies.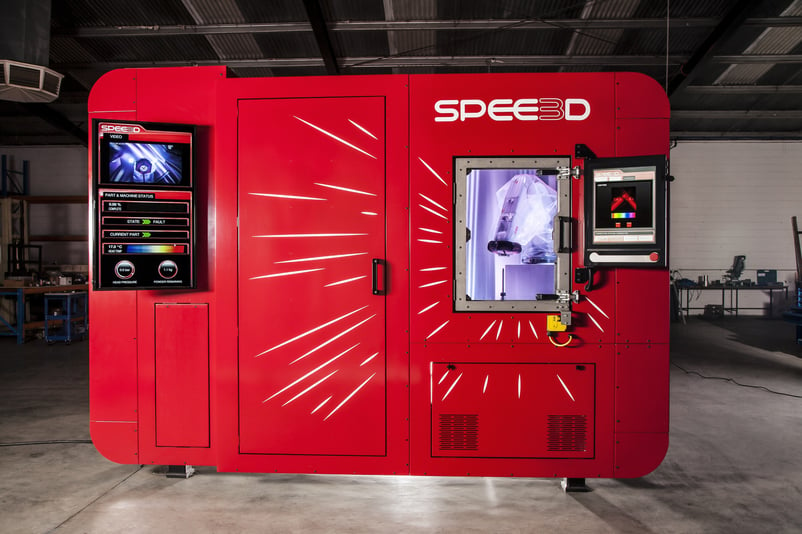 2. How efficient is your technology in terms energy and material saving? Or is time the primary benefit?
The technology offers the same benefit in terms of less waste and energy as traditional metal 3D production. Our differentiators from conventional metal 3D printing includes ultra-high speed, cost-effective part manufacturing, control of production and flexible functionality.
3. What put your company in the unique position to be able to develop this particular application for 3D printing?
SPEE3D understands the issues manufacturers face and are focused on making manufacturing easier. When starting the company, we saw that metal 3D printing had a problem, it was too slow and very expensive. That made it competitive only for small batch production and high detailed parts. Today, SPEE3D's is giving manufacturers freedom and flexibility to build parts they want at a cost and speed suitable for manufacturing.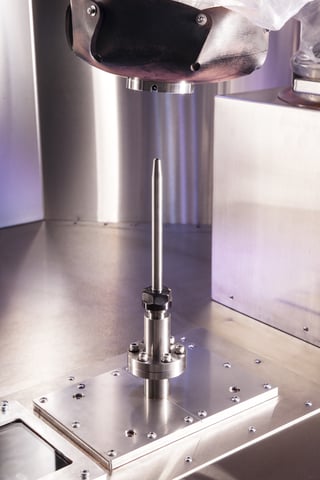 Previous to this, Byron Kennedy and Steven Camilleri (CTO) built and sold a company that developed a revolutionary high efficiency electric motor. This provided the background in manufacturing that helped the founders see the way they could impact metal 3D printing. They also saw the current metal printing issues from personal experience, both in terms of cost and speed, and thus the company was born to solve these issues.
4. What are the particular production restrictions that your process includes?
We cannot produce fine delicate parts such as lattice structures. Today, 3D printing is focusing on extremely complex parts that cannot be made by traditional methods. The reason for this is the existing technologies are slow and costly. Primarily the existing markets are medical, dental, aerospace and other high value applications.
Our focus is on materials that people are using today – copper, aluminium and later, steel. We are not focusing on titanium or other high cost materials. The technology is to replace standard materials and parts that are cast today.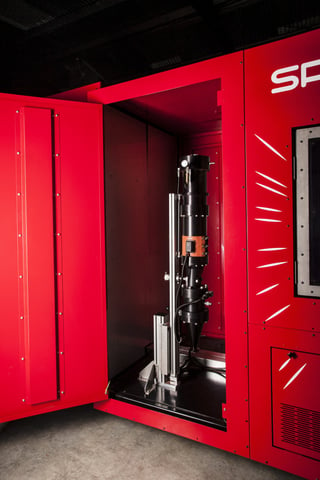 5. And how about the first commercial applications?
We are seeing a strong interest in the technology from various sectors, particularly the automotive and industrial manufacturing industries. This is due to the high speed, low cost advantages that the technology offers.
6. Which industry has the largest potential impact from implementing your technology?
We are currently focusing on applications that use aluminium. In particular this includes automotive, aerospace, HVAC and commercial/industrial applications. The technology offers low cost, just in time production, is scalable from single piece to volume production and provides control of your supply chain. Industries that are looking for improvement in these areas will benefit from the technology.
7. So are your machines already in-production? Or, what would the last hurdles to rocket powered 3D printing be?

Yes, LightSPEE3D is in production and we have a strong sales pipeline. Current lead time is around 16 weeks.
We are bringing LightSPEE3D to Europe in November to display at Formnext. This machine will be available for demonstrations and to build parts following the event. Additionally, the first machines will be installed in the USA early next year.
All pictures courtesy of SPEE3D.