PostNord Introduces 3YOURMIND Platform for 3D Printing
News
3YOURMIND
|
April 5, 2018
| 3 min read
PostNord is the leading supplier of communication and logistics solutions in the Nordic region. In 2017, PostNord began a significant investment in providing 3D printing services through its subsidiary company PostNord Strålfors, to make the 3D market more accessible to both businesses and consumers. Now they have partnered with 3YOURMIND and are using their software platform to drive their on-demand production.

PRESS RELEASE
4th April 2018
3YOURMIND/Berlin
The Nordic logistics leader has identified additive manufacturing as a step in the company's service offering to address ever-changing customer needs by combining PostNord Strålfors heritage from 2D printing services with new on-demand 3D printing capabilities.
"At PostNord Strålfors, we aim to be our customer's digitalization partner, and we constantly need to strive for digital developments and explore new business opportunities," says Ylva Ekborn, CEO of PostNord Strålfors Group.
They recognize that additive manufacturing can create new business opportunities in several areas such as print production, logistics, e-commerce, and fulfillment and sees the new technology as an opportunity to enhance and complement their customer offering. After meeting 3YOURMIND at the formnext industrial trade show in November, PostNord quickly recognized that the software platform was suitable for a business to business solution for 3D printing.
"We appreciate 3YOURMIND´s agile approach and rapid development to adapt the platform to our needs and business model. 3YOURMIND´s platform enables automate pricing, order management and customer fulfillment which makes them a partner we can develop with as the 3D business is growing." says Tomas Lundström, 3D Business Development Project Manager at PostNord Stralfors.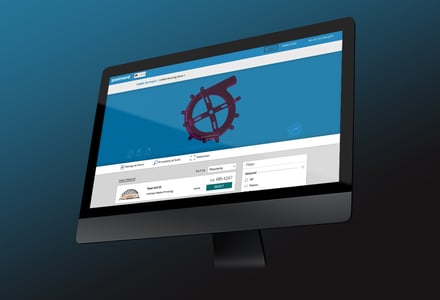 "In the last 2 years 3YOURMIND has been supporting the growth of 3D printing across Europe and around the world. At PostNord Strålfors we found the same innovative energy for pushing towards a widespread adoption of industrial 3D printing across all Nordic countries." Daniel Landgraf, Sr. Sales Manager of 3YOURMIND GmbH.
Tomas Lundström, 3D Business Development Project Manager, PostNord and Aleksander Ciszek, CEO, 3YOURMIND will be sharing their use case on April 10th at the Additive Manufacturing Users Group (AMUG) conference in St. Louis, MO, USA. In their joint presentation they will describe how to automate customized production using user generated data and the 3YOURMIND Platform. The two partners are connecting data from a variety of streams to create the truly agile manufacturing processes that will fuel the Industry 4.0 growth cycle.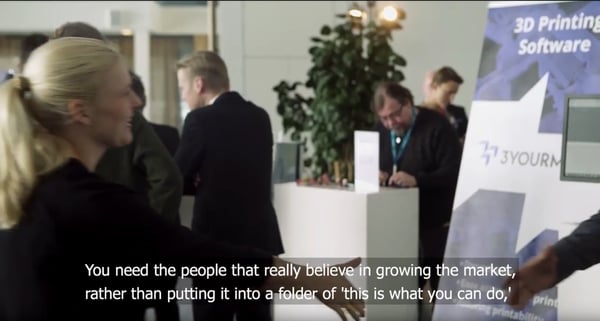 Video Description of the Partnership
About PostNord and PostNord Strålfors
We deliver! PostNord is the leading supplier of communication and logistics solutions to, from and within the Nordic region. We ensure postal service to households and businesses in Sweden and Denmark. With our expertise and strong distribution network, we develop options for tomorrow's communication, e-commerce, distribution and logistics in the Nordic region. In 2017, the Group had around 31,000 employees and sales of just over SEK 37 billion. The parent company, PostNord AB, is a Swedish public limited company headquartered in Solna, Sweden. Visit us at www.postnord.com

PostNord Strålfors develops and provides communications solutions that give companies with many customers and suppliers completely new opportunities for creating stronger and more personal customer relationships. With our digital platform, we deliver seamless communication, regardless of which channel the recipient requires. PostNord Strålfors is part of the PostNord Group, the leading supplier of communications and logistics services in the Nordic region. PostNord Strålfors has operations in Sweden, Norway, Denmark and Finland, where our 750 employees achieve sales of SEK 2.1 billion (2017). Read more about PostNord Strålfors.

About 3YOURMIND

3YOURMIND provides platforms to streamline industrial 3D printing for innovative companies and leading 3D services. Our platforms enable our customers to use the technology to its utmost potential. The digital 3D workflows connect teams and production locations, optimize resource utilization and enable smart AM production decisions. Our on-demand AM services provide additional expertise your company needs to move forward from CAD modeling to part optimization and technology recommendations.

We work closely with our clients to connect all parts the workflow and increase the level of AM production. Our platforms are providing the pathways for the world to move into a next generation of manufacturing - Agile Manufacturing.

Press Contact
Public Relations Manager
Ana Carolina Rocha
3YOURMIND GmbH
Bismarckstraße 10-12
10625 Berlin
Telefon: +49 30 555 78748
Email: press@3yourmind.com
Message to editors:
We are happy to send you high resolution images for publication upon request.
For scheduling an interview please contact press@3yourmind.com