AM veteran Stefan Ritt joins 3YOURMIND
News
3YOURMIND
|
December 5, 2018
| 3 min read
3YOURMIND continues to populate its global team with the industry's leading experts.
The Berlin-based software company has recruited widely-respected AM veteran Stefan Ritt as their new Head of Global Marketing. After years of growth, 3YOURMIND continues to expand their global team to serve a growing international customer base throughout the U.S. and Europe.
3YOURMIND's products are the foundation to lead additive manufacturing from prototyping to serial production. Ritt plans to build on the company's technology that covers end-to-end workflows: from part identification (AMPI) through order management into production management (Agile MES).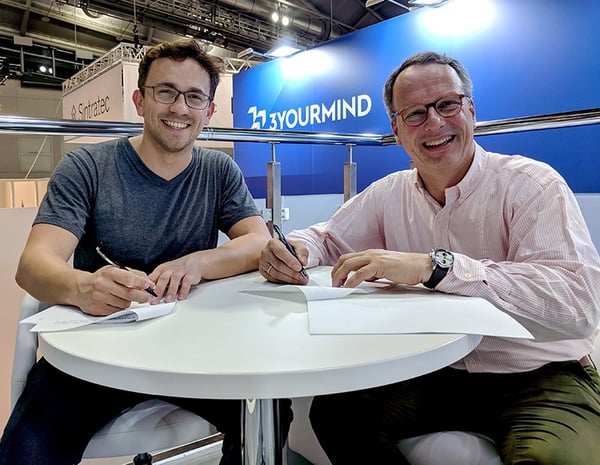 Stefan Ritt and Aleksander Ciszek Sign Employment Contract at Formnext 2018
Aleksander Ciszek, CEO of 3YOURMIND:
"Over the past few years, we have assembled a creative, international and highly-motivated team, enabling us to serve a broad range of enterprise customers and secure funding from high-profile investors. We are excited that the 2015 AMUG-Dino award winner Stefan Ritt is joining our team to help us on our mission to bring additive into manufacturing".
Stefan Ritt, the new head of Global Marketing for 3YOURMIND added:
"I am very pleased with the trust that Aleksander Ciszek, Stephan Kuehr and their team have placed in me. I am convinced that adding the integration of AM machines within 3YOURMIND's comprehensive software will be the solution the AM industry needs to make the step from individual prototyping to advanced industrialization and reliable serial-batch production."
Ritt has worked in the additive manufacturing industry on a global scale for more than 20 years and was extensively involved in building new geographical markets for AM, as well as establishing sales channels and country subsidiaries. Before joining 3YOURMIND, Ritt spent eight years at SLM Solutions, four as the VP of Global Marketing and Communications. Since 2015, Ritt served as Chairman of workgroup 'Additive Manufacturing in Aerospace' at DIN Deutsches Institut für Normung e. V. (German Institute for Standardization). He also led the development of educational programs to pave the way for the successful growth of the entire AM industry.
3YOURMIND will be increasing their presence in both the U.S. and Europe throughout 2019 to push their mission of integrating additive into series manufacturing. This will be accomplished by adding machine manufacturing and AM production experts to the software development team.
Video
Stefan Ritt, Head of Global Marketing, 3YOURMIND (0:41)
---
About 3YOURMIND
3YOURMIND offers Enterprise Software to optimize the additive manufacturing processes for leading companies and 3D print services. The technology allows customers to fully exploit the potential of industrial 3D printing using digital workflows to connect teams with production locations, optimize machine utilization and enable well-informed production decisions.
The AM Services department offers additional, on-demand expertise for CAD modeling, part optimization, and technology selection. 3YOURMIND works closely with customers to add efficiency to AM workflows and to drive AM production forward. The software is laying the foundation for Agile Manufacturing.
Customers who have already successfully integrated 3YOURMIND products into AM production include GKN, DB Schenker, Postnord, EOS, and other undisclosed enterprise companies.
Message to editors:
For high-resolution images or to schedule an interview with Stefan Ritt or Aleksander Ciszek, please contact press@3yourmind.com.