The umati standard influences AM
Blog
Patrick Möller
|
February 25, 2020
| 5 min read
Additive manufacturing technologies and materials have made significant progress over the past several years - but even the top production houses still handle the majority of their scheduling and quality control using manual processes. This is because of the complexity of the work, the lack of best practices and the development of independent machine data systems. We know from other industries (USB, CDs, paper sizes) once those standards are in place and in use - a whole host of other processes simplify and production costs drop. The same will be true for additive manufacturing machines - the easier it is to exchange and share information, the more efficient they are. Companies across all industries involved in production are requesting a universal machine interface to ensure clear data collection, streamlined communication channels and control of different machine types. Umati enables machine vendors to provide a connectivity interface to easily connect to customer-specific software solutions.
Why (Machine) Communication is Key
Manufacturing efficiency can be increased in various ways but the most stable processes are accomplished by automating communication flows. This is what is accomplished in lean production lines. All production steps are standardized to a stable data stream. That way even when certain components in the production are switched, the value chain still receives the full information content so decisions can be made efficiently. That helps increase capacity utilization, assure quality and create more agile processes.
But to allow machines to communicate their data and achieve efficiency a connectivity interface is needed. Different approaches have been developed in the past to streamline shop floor data flows (e.g. REST APIs, MTConnect).
Unfortunately, none of them achieved a universal, plug and play solution. They either lack specificity (e.g. no clear definitions of the endpoints) or functionality (e.g. only supporting one-way communication only). That limits their ability to be used across industries, particularly when multiple machines are in a production environment. The typical AM service bureau has 3D printing machines from between four and eight vendors. At least the same number of post-processing stations can be found later in the processes along with quality assurance systems and software to manage the work.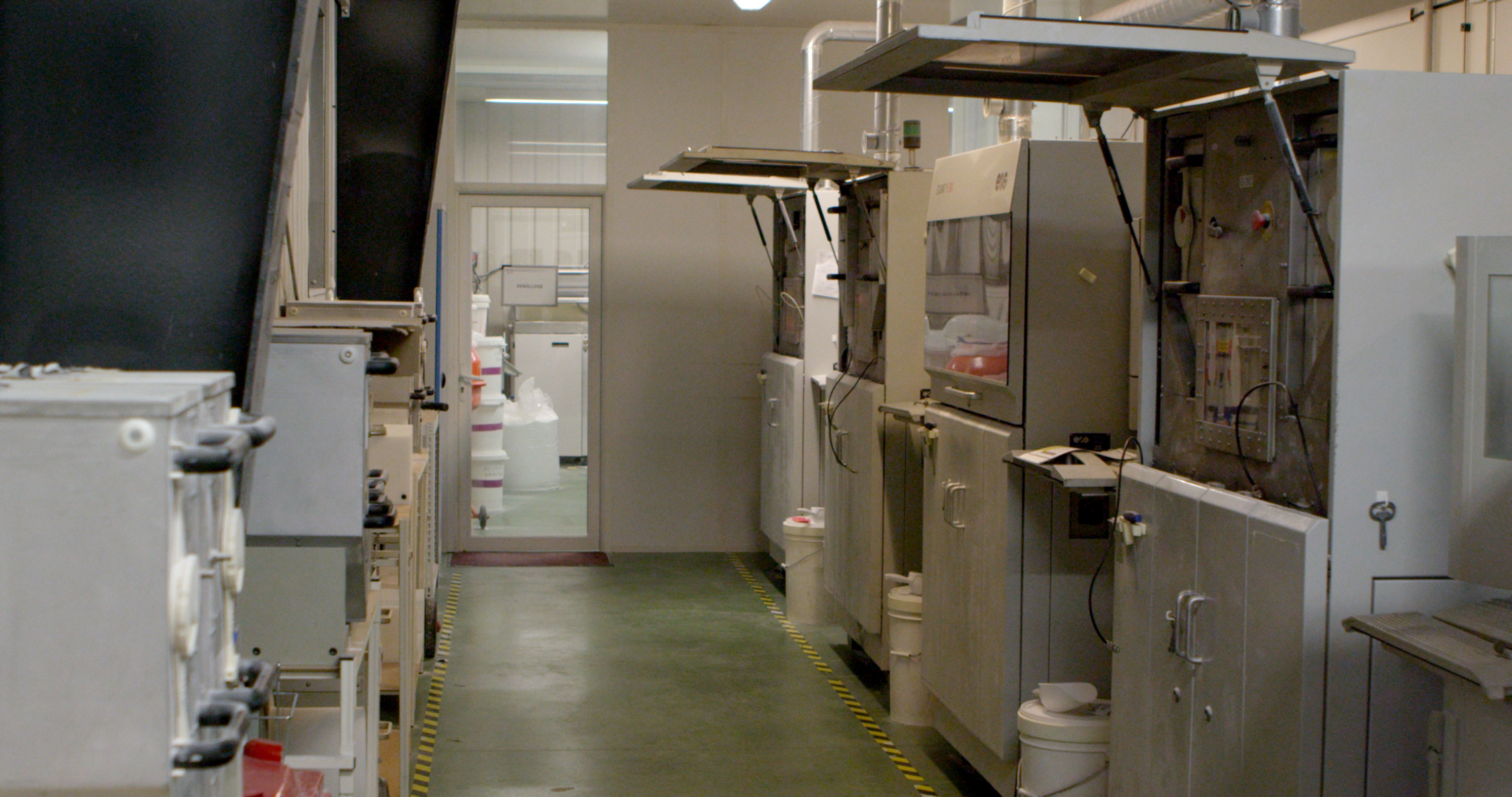 Let's Start to Communicate (in Standards)!
Based on our conversations with service bureaus and machine companies, an agile interface for machine communication should:
Be Universal
Usable for multiple machines, platforms, application.
Fast and Secure
Built using modern web standards.
Provide Formatted Information
For machines, jobs, tools and statuses.
Support Two-way Communication
To prepare for full industry 4.0 automation.
These were the same cornerstones that the VDW, the German Machine Tool Builders' Association put as their definition for the umati (universal machine tool interface) standard. It is an initiative from 70 companies from over 10 countries being developed by a Joint Working Group since 2018.
The group recognizes that building a standard for global acceptance is a significant challenge so the group uses OPC UA for the underlying delivery method. OPC UA already uses a server-client model to look-up data, read and write new operations, execute tasks and provide notifications for data and events. This has allowed umati to "leapfrog" several competing standards by using the infrastructure of OPC UA.

The key existing features of OPC UA are:
Platform Independent
Suitable to embed in a variety of machine types and use in cloud-based software infrastructures.
Secure
Supports encryption, authentication, and auditing.
Extendable
New features can be added without affecting existing applications
Comprehensive Information Modeling
Allows for the definition and management of complex information flows that are needed for additive manufacturing and industry 4.0.
What (Machine) Data Should We Communicate?
The main initial task of umati is to define standardized semantics, embedded in the existing OPC UA information model. This is achieved by creating a common way the data structure is created for servers and clients on top of the existing OPC UA format. This is choice also helps minimize the risk for venders when implementing the system because OPC UA is already tested and validated as a data standard.
Once it is fully defined, umati will be universal and therefore easily to link different machine types and applications. It simplifies the task of machine connectivity with multiple vendors and also reduces the effort to connect to other OPC UA integrations, even if they haven't added umati.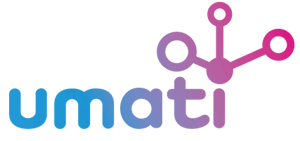 The following use cases will be covered by the official umati release in mid-2020:
Identify machines of different manufacturers
Overview if production is running
Overview of parts in a job
Overview of runtimes for a job
Overview of machine tool state
Overview of upcoming manual activities
Overview of errors and warnings
Providing information for KPI calculations
Providing data for media and energy usage statistics
Providing an overview of tool data
For future versions, higher update rates and further use cases are foreseen:
Operating status
Information about parts and materials
Controlled data management
Machine to machine communication (Automation systems)
Job file management
Part Lifecycle information
Process analysis / Quality assurance
By putting all this information into a universal interface on different production machines, there is the possibility to easily track and move key parameters between machines and software application. When all these use cases are covered, the dataset will cover the use cases for industry 4.0 manufacturing.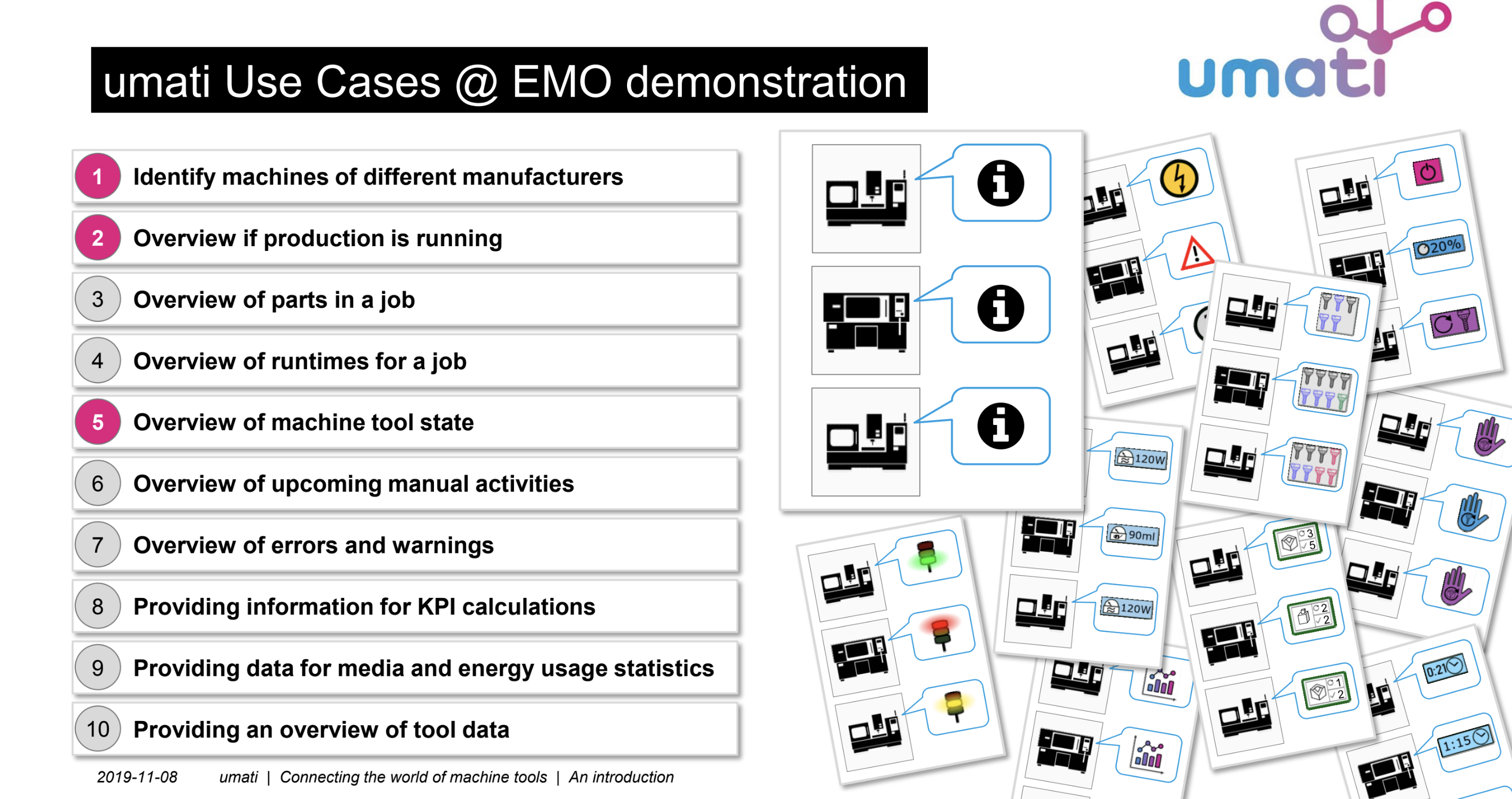 How easy is it to implement umati?
In contrast to other solutions, integrating umati is fairly straightforward because:
Umati includes a ready-to-use scheme.
There is no need to define data points for your specific technology or applications. That reduces the time (and bureaucracy) needed for implementing an internal API.
OPC UA libraries have existing, easy to use libraries.
ANd to make it even simpler, to support umati, most of the features offered by OPC UA are not even needed so the libraries almost always cover all the required functionality.
Relevant information is centralized.
All information like companion specifications, umati nodeset, umati server example can be accessed for free from www.umati.info.
The Future of Manufacturing is Automation
For several years, the manufacturing industry has been promising Industry 4.0 is around the corner. The reality is that key components of the process like additive manufacturing are still heavily reliant on manual processes. Putting data standardization in place between various machines and technology components are key milestones on the pathways to agile automation. The umati standard internalized that goal from the beginning of the standard definition which puts them in a unique position to deliver on the promise of automation in the coming years.