The combination of EnOcean's Switch Design Kit and 3YOURMIND's access to professional print services is one of the first consumer combinations of 3D Printing and the Internet of Things.
Designers, makers and inventors can directly access and modify the sensor casing from the EnOcean's Design Center. Those files can then be uploaded and printed in over 150 materials and finishes using 3YOURMIND to access to professional 3D Printing services worldwide. The only limit to the final application is the imagination of the creator!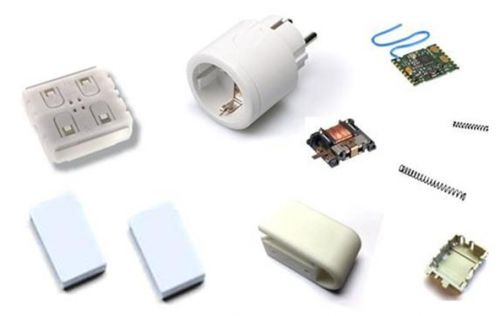 By putting 3D models online, Element14 simplifies the process of prototyping IoT by switching from full creation to adaptation. It embodies the free access spirit of both the IoT and particularly the 3D printing movement. 3YOURMIND, in turn, gives access to have those designs verified for printability and then professionally produced in over 150 Materials and Finishes.

Stefan Kühr, CEO, 3YOURMIND
By shifting the implementation of IoT from "made-by-hand" to 3D printed components, the result has a higher quality creating a much more seamless weave into the daily fabric of life.
Adding a switch next to the bed to turn on the lights all the way to your kitchen

Triggering the thermostat to turn on when the front door is unlocked

A garage door opener as a switch in the 3D printed cell phone holder on the car dashboard

3D print your light dimmer in gold, with the same pattern as your antique lamp
Getting Started
STEP 1: ORDER
The Element14 Sensor Kit is available in Europe directly from Farnell.com. The self-powered sensors takes the electrical complexity out of designing for the internet of things.
STEP 2: DOWNLOAD
Download your CAD Integration from 3YOURMIND so that you can upload your modified design files directly to the online platform.
STEP 3: CUSTOMIZE
Access the design files you want to modify for your specific application from the EnOcean Design Center.
There are 6 available components to modify:
Clamp Switch

Contact Switch

Dual Rocker

Mini Tab

Push Button

Roller Switch