3YOURMIND and TÜV SÜD collaborate to build a rapid Parts Qualification online tool
Blog
Customer Story
Jakub Karkocha
|
July 6, 2020
| 3 min read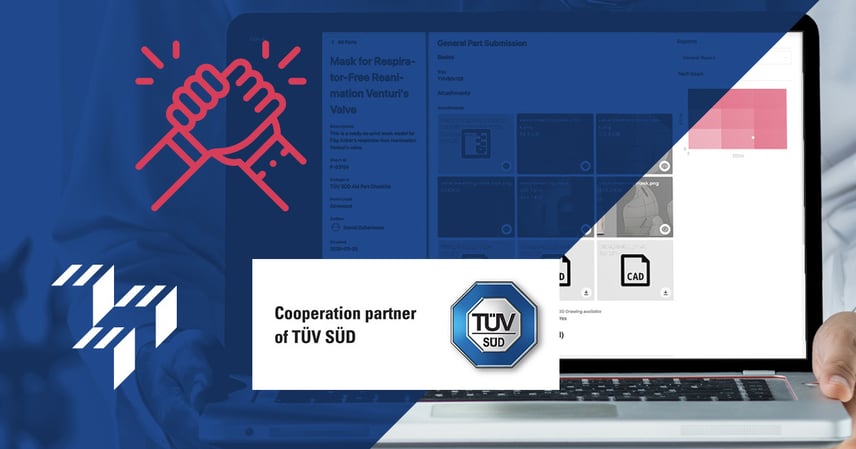 2020 is a hard year for everyone. The global crisis came unexpectedly and slowed down most of the companies development around the world. Priority has changed from product development to the producing of medical supplies to support the medical industry. During this time, 3D printing has proven its predominance over traditional manufacturing methods. We were able to supply small batches of newly designed products and iterate them when new developments were made. The biggest challenge was to qualify and certify all of those parts, so they could be used to support the fight against the virus.
TÜV SÜD and 3YOURMIND joined strengths against the crisis
Together with TÜV SÜD, 3YOURMIND has established a platform to gather the data about the products and their production to evaluate the needed qualification steps. This cooperation made it easier and more accessible for the end-customers and the designers to make sure that their product ideas can be used and that the established AM standards and the technology-specific risks are considered. The platform came together with an order management tool where certified suppliers offered their 3D printing services to hospitals. An additional Digital Inventory of qualified parts with predefined material and post-processing configuration made it very intuitive and easy to use.
The world would change after the crisis
As the crisis came already months ago, we believe that it will be coming to an end sooner or later. Therefore all the initiatives established during the crisis should be planned in a way to support the industry in the post-crisis times. Our cooperation with TÜV SÜD hopefully will bring us closer to the solution for one of the biggest challenges of AM we are facing today - lack of the qualification processes.
Many industries, like automotive, aerospace, medical, and many more, are trying to implement 3D printed products in their production line, but because of the lack of certified processes, materials, and products it is difficult and very time consuming to do it on a global scale.
With an initial focus on corona-relevant applications, the new "TÜV SÜD Remote AM Assessment" powered by 3YOURMIND will have a great impact on basic quality assurance processes for 3D printed parts and products.
TÜV SÜD is focusing on putting all the processes in place. With the support of 3YOURMIND's platform, their services will be much more accessible for customers. It might mean that 3D printing's development would be much faster after the COVID-19 times.
Watch the video of André Drochner, Senior Business Development from 3YOURMIND and Simon Schlagintweit, Medical Expert and Lead Author for Additive Manufacturing from TÜV SÜD Product Service GmbH talk about how TÜV SÜD and 3YOURMIND joined strengths against the crisis:
About TÜV SÜD :
Digital transformation is already revolutionizing every aspect of our lives, changing the way we live, work and play. Throughout this period of uncertainty, TÜV SÜD is striving to add value to governments, businesses and consumers worldwide. Our aim is to inspire trust in technology, enabling progress by managing technology-related risks and facilitating change. This commitment is embodied in the new claim "Add value. Inspire trust."

TÜV SÜD is a trusted partner of choice for safety, security and sustainability solutions. Over the last 150 years, we have added value to our partners and customers through a comprehensive portfolio of testing, certification, auditing and advisory services. We have enabled progress in society and businesses by staying true to our purpose of protecting people, the environment and assets from technology-related risks.
Today, we are represented by more than 25,000 employees located across over 1,000 locations in about 50 countries. Our community of experts is passionate about technology and is inspired by the possibilities of your business. United by the belief that technology should better people's lives, we work alongside our customers to anticipate and capitalise on technological developments.
Going beyond regulatory compliance, we inspire trust in a physical and digital world to create a safer and more sustainable future.