A Step-by-Step Guide to On-Demand Manufacturing
Blog
3YOURMIND
|
August 18, 2022
| 3 min read
Leverage additive manufacturing to print parts when and where they are needed.

In this guide, find out how your company can develop its on-demand manufacturing strategy to build a more robust supply chain.
What is On-Demand Manufacturing?
On-demand manufacturing produces low- to mid-volume goods when and where they're needed using 3D printing, CNC machining, and water jetting technologies. The widespread adoption of on-demand manufacturing requires changing the current manufacturing paradigm to evolve in close harmony with all Industry 4.0 elements, including decentralization, interoperability, big data, and industrial internet of things (IIoT).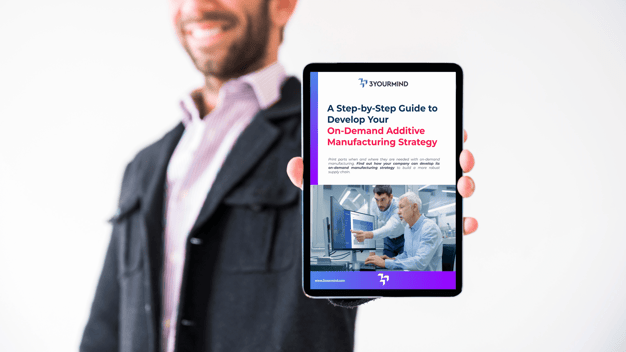 Why is On-Demand Manufacturing Important?
Although globalization enabled a manufacturing culture of cheap, 'just-in-time' goods, the events of the last few years, including global supply chain constraints due to the COVID-19 pandemic and geopolitical conflicts, have underlined the importance of economic self-reliance and decentralized manufacturing.
The allure of on-demand manufacturing is its ability to make organizations more reactive to changing circumstances. For example, suppose a critical spare part breaks, and replacement parts are located at an off-site warehouse.
In that case, on-demand manufacturing methods can step in to produce the part with shorter production lead time and less operational downtime. Additive manufacturing (AM) is a central player in this transition away from rigid manufacturing mechanisms and precarious supply chains.
ASTM International defines AM as "a process of joining materials to make objects from 3D model data, usually layer upon layer, as opposed to subtractive manufacturing methodologies."1 Additive manufacturing offers benefits such as design flexibility to create parts conventionally made out of multiple components into a singular printed piece. In addition, its 'freeform' layer-by-layer printing capabilities empower lightweight designs, critical for industries like aerospace and defense.
The potential of additive technology to support on-demand initiatives is also gaining high-level support in government. For example, in May of 2022, U.S. President Joe Biden announced the Additive Manufacturing Forward program to accelerate the adoption of additive manufacturing technology between major U.S. original equipment manufacturers (OEM) and their small and medium enterprise (SME) suppliers.
The partnership program is designed for OEMs to send 'demand signals' to SME suppliers to encourage suppliers to invest more in AM technology with less perceived financial risk. As a result, SME suppliers will be able to utilize OEM expertise to invest in new machines, gain access to technical assistance, train workers, and work together to develop AM standards.2
The AM Forward program is a significant indicator that additive technology is piercing traditional manufacturing barriers, demonstrating that the global manufacturing industry is more receptive to on-demand manufacturing opportunities.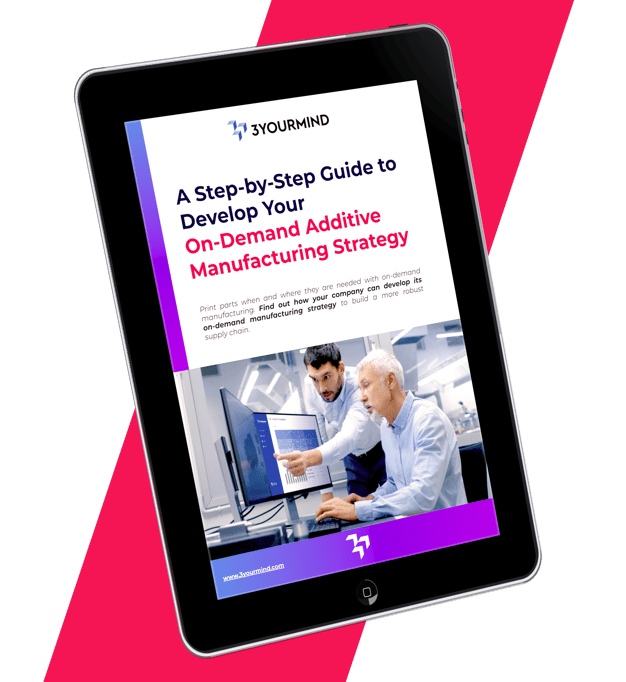 Who is the On-Demand Manufacturing Guide For?

A Step-by-Step Guide to Scale Your On-Demand Additive Manufacturing Strategy is designed to assist companies and organizations with existing AM strategies to scale up their additive initiatives in preparation for on-demand manufacturing.



Specifically, this guide is meant to assist companies that focus on low and mid-volume production identify opportunities to harness additive manufacturing capabilities to produce spare parts on demand. Successful candidates for this guide are maintenance, repair, and overhaul (MRO) companies, OEMs, and suppliers who experience:
Limited knowledge of additive manufacturing in the organization, which slows adoption and efficiency.
Increased storage costs each year due to overstocking and significant waste of unused parts.
Financial losses due to long production lead-time to produce low-volume spare parts.
Costly operational downtime when equipment breaks or malfunctions and parts are no longer available or in stock.
Difficulty sourcing suppliers to manufacture legacy or obsolete parts.
Example industries that may benefit from this guide include automotive, energy, defense and aerospace, and railway. However, this list is by no means exhaustive.
It's also important to note that this guide offers a framework for starting your on-demand manufacturing journey. However, it is not comprehensive due to individual companies and industries' unique needs and demands.
Want to learn more?

Download the guide to learn how your company can scale up its additive manufacturing strategy for on-demand.