How to Identify Use Cases for On-Demand Manufacturing
Blog
Devin Culham
|
February 4, 2022
| 4 min read
Learn how industries leverage additive manufacturing solutions to improve on-demand capabilities.
Approaching additive manufacturing from a conventional manufacturing perspective can lead to disappointment. On the other hand, on-demand manufacturing promises simplified manufacturing without supply chain constraints. First, however, it's necessary to understand which use cases provide the greatest benefit to your organization.
One of the most critical exercises for organizations when first embarking on their AM journey is identifying new applications and business cases for additive manufacturing. This process involves screening current part inventory and analyzing which parts are printable as is, printable parts that require design changes, off-the-shelf parts, and parts not suitable for 3D printing. From here, additional analysis determines whether AM is both technically and economically feasible.
Finding the AM Sweet Spot is Vital
3D printing large production runs of ready-made parts are unlikely to be cost-effective. However, for custom, small batch production parts, AM can offer design flexibility, reduce warehousing costs, and create more agile supply chains by locating production closer to the end-user.
In this stage, 3YOURMIND's part screening and business case solution can empower employees to find new AM use cases.
By submitting existing inventory parts for screening, employees with or without AM technical knowledge can input part information through a market-validated assessment algorithm to receive a technical and economic feasibility score. Validated parts are then sent to your organization's AM experts to evaluate parts short-listed for additive manufacturing in greater detail.
Once an AM inventory contains AM-ready parts, companies can establish a one-click AM ordering system. This practice is critical for part repeatability, version management, serial AM, distributed, and on-demand manufacturing.
Additive Manufacturing in Real-Life
Germany national railway company, Deutsche Bahn, demonstrates how employees play a significant role in enabling on-demand manufacturing. With desktop and mobile access to the AMPI tool, employees can quickly identify and submit AM parts for screening by Deutsche Bahn's team of AM experts.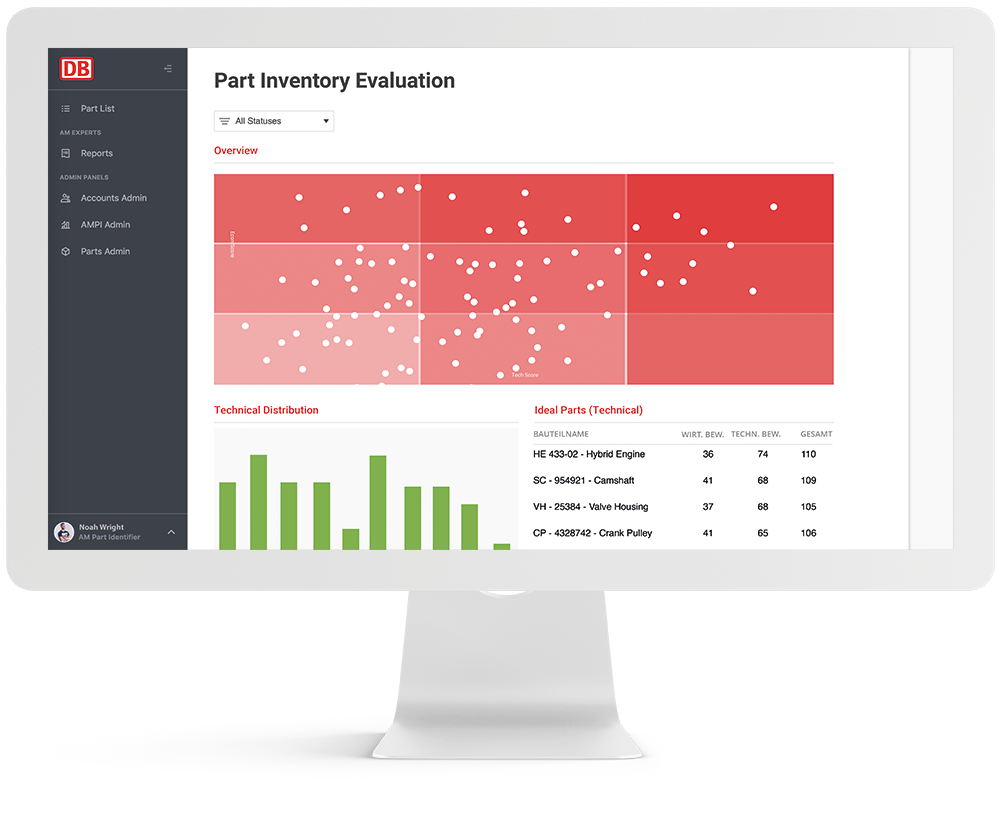 Customized report of the top business cases for Deutsche Bahn based on economic and technical criteria
As a result of leveraging their employees' expertise and empowering them with the right tools for the job, Deutsche Bahn successfully used 3YOURMIND's Agile PLM to:
Increase its ratio of suitable parts from 50:1 to 3:2, signifying a 600% increase in suitable parts.
Improve part assessment by 75%, from 95 minutes per part to 25 minutes per part.
Decrease time spent identifying valuable AM use cases by 120 times, from approximately 80 hours to just 37.5 minutes.
Achieve €90,000 in savings with just one Agile PLM identified part roll-out.
To see this in practice, Deutsche Bahn successfully used 3YOURMIND's AMPI tool to identify an AM use case for secondary roll stops. This component bolts underneath the train car body that limits the lateral movement of the car body for safe cornering on tight track curves.
As a result of AM realization, Deutsche Bahn successfully reduced its production lead time for secondary rolls tops from 10 months in a foundry using conventional manufacturing methods to 5 months with additive manufacturing, including factoring in testing time.
Additive Use Cases for On-Demand Manufacturing
Additive manufacturing is not a replacement for conventional manufacturing but a complementary medium to help build greater supply chain resiliency and shorter production lead times. Identifying part use cases is an essential trigger for success on the AM journey to on-demand manufacturing.
In addition, by building a digital inventory of qualified AM use cases, companies that heavily rely on manufacturing can tap into the cost-saving potential of 3D printing technology.
Want to start analyzing your inventory for additive manufacturing use cases? Watch this webinar to learn how to identify your first AM spare part.