Vectorworks users can check, analyze and repair 3D files to optimize for 3D printing.
PRESS RELEASE
5th February 2016
3YOURMIND/Berlin
After concluding a second financing round in which Dr Hans J Langer (founder and CEO of EOS GmbH) positioned himself as the new lead investor of the company in December 2015, Berlin based 3YOURMIND GmbH continues to develop new 3D printing plugins for CAD programs. The latest addition: Vectorworks 2016, a line of 2D and 3D software developed by Vectorworks, Inc. that helps designers to communicate effectively and bring their visions to life while keeping building information modeling (BIM) at the heart of the design process.
With this new plugin, Vectorworks 2016 users can check, analyze and repair their 3D file to optimize it for 3D printing. With one click on the 3D printing extension inside Vectorworks, the file is uploaded to the 3YOURMIND comparison tool, where it can be scaled and previewed in different 3D printing materials available. Finally, users can instantly compare prices for their 3D model and order it online.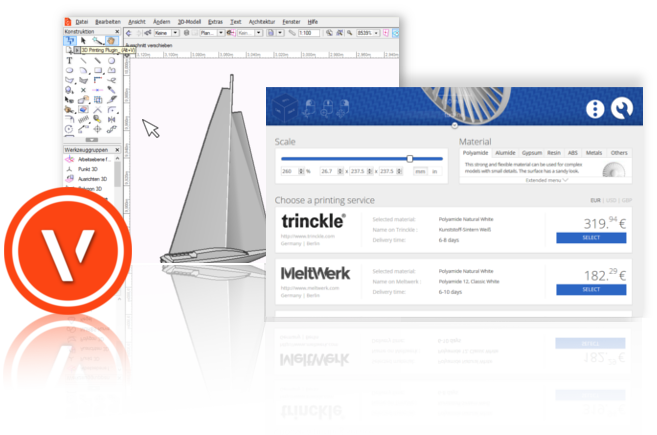 "We're thrilled to have teamed up with 3YOURMIND to offer this free plugin to our user community," said Jim Wilson, user experience manager at Vectorworks. "Now, users are just one click away from uploading their 3D files via this plugin to services that cater to all their 3D printing needs, where a wide range of materials are available to choose from and where secure file transfer with SSL is guaranteed."
Learn more about 3YOURMIND's plugin for Vectorworks software here and explore Vectorworks' partner products here. The new plugin can be easily installed at either site.
About 3YOURMIND
3YOURMIND offers intelligent 3D printing solutions for industry and architecture. Their comparison tool on 3yourmind.com presents a convenient way of ordering a 3D printed model of a prototype online. Users can upload their 3D file, which is automatically repaired to achieve a better 3D print result. Afterwards, the user can compare prices of various 3D printing services, and choose from different materials. 3YOURMIND gathers DAX-30 groups and 3D printing suppliers as their clients and partners.
About Vectorworks, Inc.

Vectorworks, Inc. is a global design software developer serving the architecture, landscape and entertainment industries. Since 1985, we have been committed to helping designers capture inspiration, nurture innovation, communicate effectively and bring their visions to life. We've developed the best CAD and BIM software for Mac and Windows that puts BIM at the heart of the design process, enabling the flexibility needed for efficient iteration throughout the design life-cycle. Headquartered in Columbia, Maryland, Vectorworks, Inc. is a part of The Nemetschek Group. Learn more about how we empower more than half a million designers to create experiences that transform the world at vectorworks.net.