CIPRES Revolutionizes Order Management with 3YOURMIND
Customer Story
3YOURMIND
|
November 11, 2021
| 4 min read
Due to changes in market requirements, CIPRES was only just managing to deal with the number of inquiries and with preparing and sending out quotes via email. Price calculations, communicating with customers when requirements changed, order placement, planning production, preparing production plans, and facilitating communication between production units all required a lot of time and meant high costs. This is why CIPRES decided to look for a partner to support them in overcoming the challenges posed by digitizing their processes.
After a number of consultations, 3YOURMIND was chosen as a partner, and the digitization of CIPRES' processes of additive manufacturing was implemented.
Thanks to the implementation of Digital Inventory and Production Quality Management solutions, CIPRES is now able to offer their customers a fully digitized process, which begins with the initial request for a quote, and ends with the delivery of the product. The customer can check the status of their order online at all times. Furthermore, the employees working on order processing are always fully informed on the current status of production. Every printing error is recorded in real-time and can therefore be quickly recognized and reordered, which in turn has a positive effect on costs and delivery times.
Challenge : take additive manufacturing operations to the next level
CIPRES is a specialist in 3D printing and surface finishing from Bavaria, who is always a step ahead of the market. The company is driven by innovation and knows how to flexibly adapt to the product requirements and wishes of its customers. As a rule, CIPRES does its research until everything, down to the smallest detail, is correct. Whether it be prototyping, customized solutions, or additive serial production – CIPRES takes ideas and turns them into scalable solutions and products that fulfill the quality standards of the industry. CIPRES has specialized in making end products using machines originally reserved for the construction of prototypes.
With a continually growing customer base, CIPRES faced the new challenge of managing daily inquiries and orders, and coordinating internally their processing. Inquiries were being dealt with in the classic way, by checking 3D data sets, calculating prices, putting together quotes and prompting orders.
Order processing management as well as preparing production plans and production process slip took up a lot of the employees' time, as did processing changes to orders and the associated communication with customers. Backtracking the entire process and making it transparent from the point of the order up to the point of delivery was, therefore, not entirely possible.
It was CIPRES' aim to digitize the processes of additive manufacturing in order to allow its customers an easy and intuitive access to additive manufacturing.
The following goals were defined:
Accelerate order processing
Digitize backtracking of orders for customers
Automate administration of production processes
Track production in real-time
"Thanks to 3YOURMIND we can offer our customers easy access to additive manufacturing by 100 % digitizing every step, beginning with the online inquiry, the 3D data check, price calculation, quote preparation, the order placement, order confirmation, and all the way to the production plan, the production process slip, supervision of production, communication with customers, and backtracking." Ingrid Prestien, CEO of CIPRES GmbH
Solution: digitization of additive manufacturing processes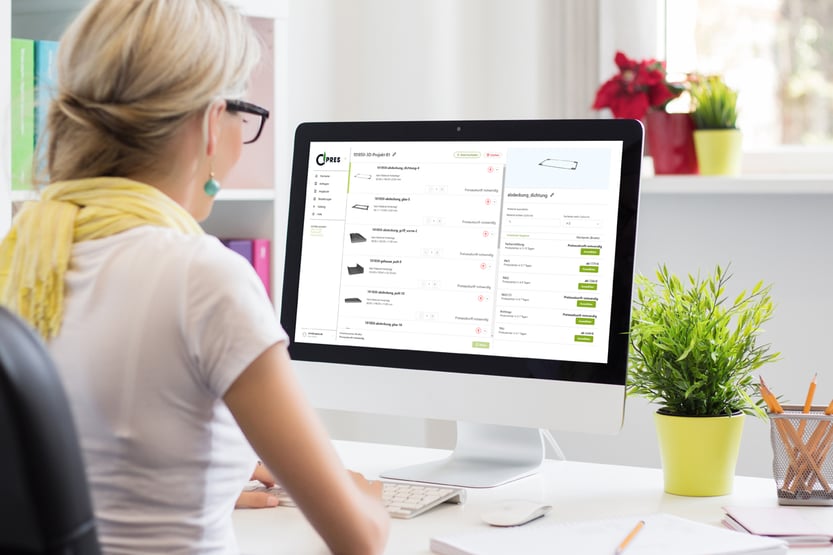 SOURCE: CIPRES
Thanks to 3YOURMIND implementing Agile ERP and Agile MES, customers can now have 3D data analyzed and optimized for 3D printing within seconds through the CIPRES online portal.
As soon as the data is uploaded, it will be automatically checked for printability and repaired if necessary. This is followed by a fully automated comparison of prices and a respective quote. This customer-friendly procedure has given CIPRES a competitive advantage, as most of the competition still prepares quotes manually and a considerable amount of communication between the customer and the supplier is required.
The automated production planning starting once the order has been confirmed, as well as the drawing up of production process slip, and creating labels and QR codes, increases efficiency and reduces errors.
Furthermore, the automated production management allows CIPRES to quickly process orders and thereby reduce production times and costs.
As a next step, the 3YOURMIND software will read the QR codes used for production monitoring, and provide the automatic internal communication regarding the production level as well as the communication with customers. This way, the CIPRES team, as well as its customers, are able to track the production processes digitally, and transparency is created on all levels and for all participants.
3YOURMIND's software modules Agile ERP and Agile MES enable CIPRES to actually enact Industry 4.0 and facilitate communication of employees, customers, machines, logistics, and products with one another. Not only individual production steps are optimized, but rather the entire supply chain.
Results: seamless, faster and more robust AM processes
Since the implementation of the 3YOURMIND software, CIPRES has been able to offer a smoothly running digital order management process – from the inquiry to the quote finally to the delivery – no matter if the customer only places a single order or is a regular customer.
3YOURMIND's software not only enables CIPRES to make its order tracking transparent but also allows for an automated price calculation, individually tailored to the customer and the project, the results of which are then forwarded to the customer. This improves the customer experience and loyalty.
During the entire production process, individual item numbers are used as unique identifiers for an improved part monitoring. With current hardware, it's only partly possible to identify parts during production and especially during post-processing. When the relevant technology is developed, CIPRES, with the individual item numbers, will have already laid the foundation for product identification and Industry 4.0 at the same time, keeping them one step ahead of the market.
With a view to the future, CIPRES intends to continue innovating and working on the AM vision, of which 3YOURMIND has become a crucial part.