Interview: Deutsche Bahn's Head of AM Shares Post-Covid Vision
Interview
3YOURMIND
|
July 22, 2020
| 5 min read
The COVID-19 disrupted global industry, including additive manufacturing. In this interview, learn what Deutsche Bahn's head of AM, Florens Lichte, envisions for the post-COVID future.
The outbreak of the coronavirus pandemic has caused a general downturn and the transportation industry has not been spared. DB, as an early adopter of additive manufacturing, has already showcased some AM success stories. We speak with DB's head of AM, Florens Lichte, on how Deutsche Bahn got involved in the response efforts to the coronavirus crisis and how he sees the future of additive manufacturing in the post-covid era.
1. Could you present yourself and tell us a bit more about your background?
I am Florens Lichte and I am managing the implementation of Additive Manufacturing into operations at Deutsche Bahn. Having obtained my Master of Science in Industrial Engineering, I joined the maintenance division for railway vehicles, DB Fahrzeuginstandhaltung GmbH, in 2014. After exploring the first application fields of AM in maintenance as a production engineer, I have now been leading the Additive Manufacturing project team across the group for over five years. With more than six years in metal working and construction, I also have a strong affection for traditional manufacturing.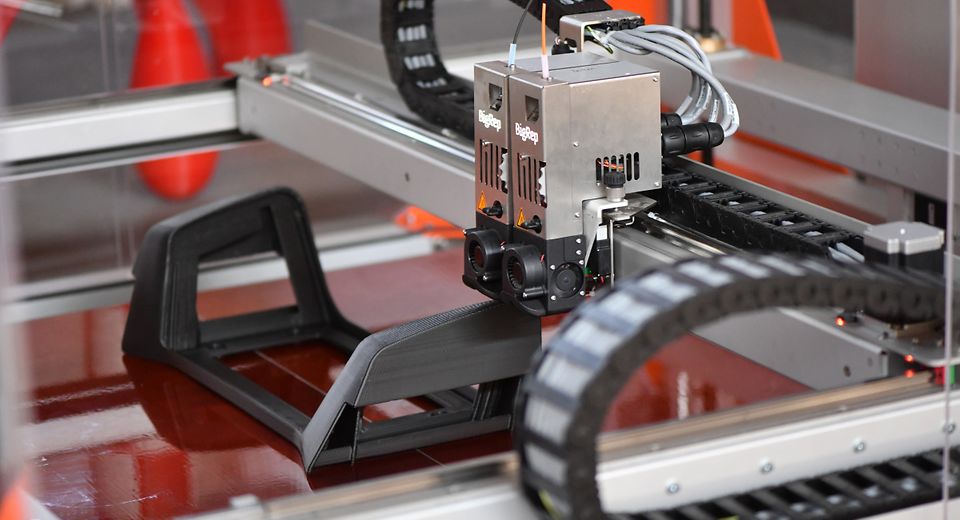 2. What are the major AM applications within your company? Could you describe a bit more:
Why and how did you start with AM?


An enhancement of operational excellence and an increase in spare part availability were the main drivers when the corporate project on 3d printing within DB was initiated in 2015. Travelers, for business or leisure, as well as freight forwarders depend on our operations every day. Reliability within the day-to-day system operations is vital, and train standstills must be avoided whenever possible - be it due to obsolete spare parts, accident repairs or even improved infrastructure in the rail network or at stations. Every hour counts! We first examined those areas and looked at where 3D printing can be of benefit. In addition, as an economy-driven enterprise, we are committed to keeping our costs under control. We want to avoid stock-keeping of parts that are rarely needed and replace them with parts on demand by means of additive manufacturing.

How do you manage AM in your organization? (which software do you use, workflow…)


Our project spans

over

business units across Germany, but also beyond national borders. For this reason, it was essential from the very beginning to incorporate all relevant stakeholders. An easy-to-use, decentralized but structured submission process directed to our central expert team is required to assess the various use cases. What is needed for this is an IT tool. 3YOURMIND's AMPI supports the process and also facilitates the first assessment of incoming submissions. This enables the core project team to

efficiently evaluate and then proceed to the detailed specification and production of the final part.

What advantages does it bring?


The main advantage is: we can assess much quicker if a part is feasible and economically viable to be produced using 3D printing. The structured collection of the submitted parts is also considerably simplified,

which

eases the processing for the central team and thus saves valuable time, all of which in turn is of benefit to the overall railway system.




What are your best AM applications?


Up until now we have a large variety of over 185 different AM applications resulting in over 15,000 printed parts. From small polymer parts up to heavy metal parts weighing up to 27 kg. There are loads of really good cases, but if you want to name a few of them then certainly the handrail signs for blinded passengers made from LBM and the secondary roll stop for our ICE fleet manufactured by WAAM.
3. How did DB get involved in the response efforts to the coronavirus crisis?
What was key was to be able to respond quickly, both in terms of supply bottlenecks for operationally relevant components, but also to safeguard the health of our passengers and employees. In the case of the latter, we supported e.g. by realizing face shields, or and hands-free door openers made available at short notice at low unit costs for our daily operations.
4. According to your experience, what did the crisis highlight about 3D Printing in general?
I think the crisis and the variety of solutions that have been developed in the medical sector but as well in other industries demonstrate quite clearly the huge potential of AM to optimize and restructure supply chains: Decentralized production, on-site, on-demand based on a digital warehouse. The crisis also highlights that AM is a technology that can be trusted and that is out-performing under difficult conditions.
5. In the case of a 2nd wave of COVID 19 or similar crisis, how can you be more prepared?
Covid-19 has helped us in a way that we can now identify critical components faster. Even closer cooperation with the purchasing department, where we were able to systematically search for economically ailing suppliers, enabled us to gain important insights and a timely advantage, which is elementary for rail transport. Thus, we were able to reinstall the availability of spare parts using 3D printing just where it was needed the most.
6. Did the COVID 19 impact your AM vision and how?
The crisis has been fostering our AM vision in many ways, it certainly created a new level of awareness for AM, that has not been there before. It is proving that we are on the right way and that we should continue to further industrialize AM.
7. What are the main challenges that AM has to solve to be more efficient?
As mentioned before, we need to further push the industrialization of AM: AM needs to become more productive (not only by means of automation), more cost-effective and more standardized. Quality assurance must require less expenditure in matters of cost and time.
If you have any questions, please don't hesitate to contact us here.