Improve 3D Printing Performance Using Analytics
Product
Ana Carolina Rocha
|
March 8, 2018
| 2 min read
Additional analytics features are now available for 3YOURMIND Agile ERP platform users to improve how 3D printing services allocate resources and increase their profitability.
The additional analytics dashboard makes it possible for 3YOURMIND's users to track the behavior and usage of their customers and 3D Printing capacities. For the first time, real-time data is directly visible to enable them to make quicker and more informed decisions and improve their overall business performance.
Smart Decision Making and Resource Allocation
The 3YOURMIND on-demand manufacturing platform already automates the processing of order requests and provides instant pricing to their customers. Now graphic visualizations detail the overall performance of the 3D service provider, and adjustable filters make it simple to quickly compare different time periods and identify production trends.
Gaining a clear understanding of customer reach and worth is one of the fundamental values of running an online shop. But establishing realistic growth goals and measuring performance is not possible without accurate data about the current amount of projects requested and their value. The additional analytics provide that information automatically; pre-processed, synthesized, and organized for them to make agile production decisions.
Automation of 3D printing is making it possible to choose to continue targeting your top 20% customers (Pareto's Principle) while retaining the other 80% that will represent in the short run the long tail. Those business decisions can now be made based on real-time performance data. The platform removes the question from investment in new AM machines, adjustment of pricing, and determination key customer accounts. That data visibility will speed up the growth and business success of 3D printing.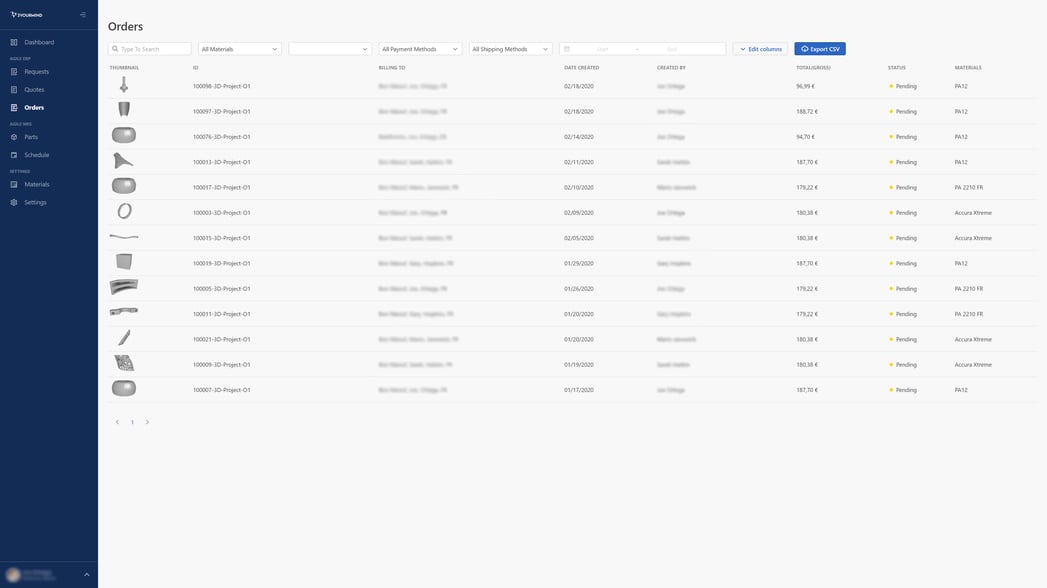 We know data is the new currency, and by making real-time evaluations visible, 3D Printing Services have the framework they need to make the best decisions for increasing profits. - Stephan Kühr, CEO & Founder. 3YOURMIND
Making Key AM Metrics Visible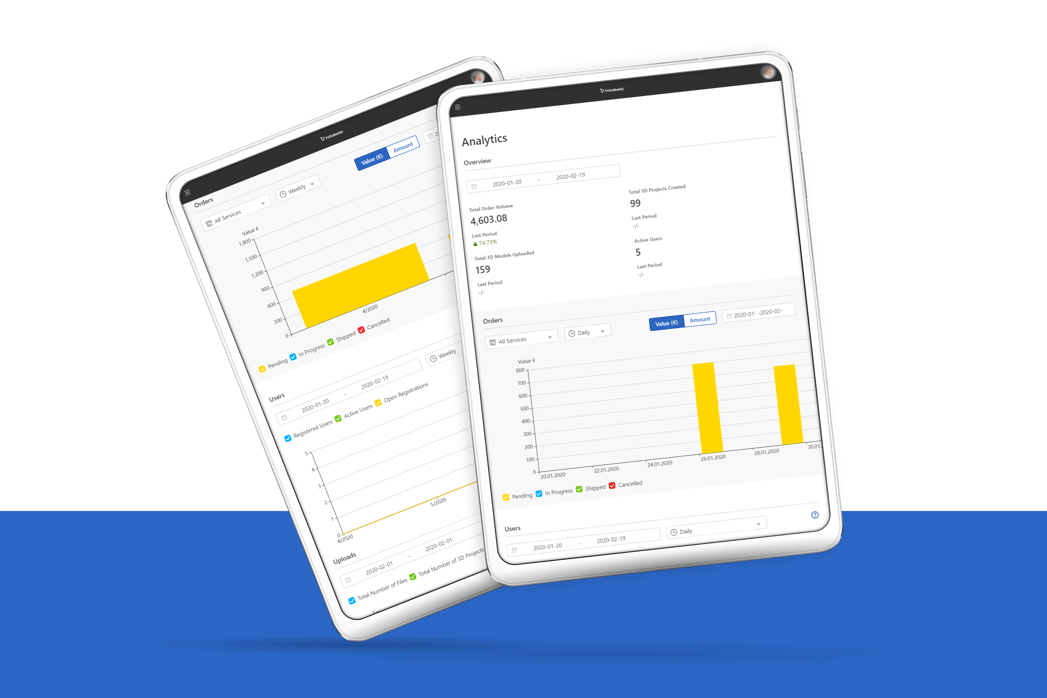 The analytics in the platform are specific to the unique needs of additive manufacturing. The detailed information shows commercial and manufacturing performance, enabling the identification of periods of higher activity, production peaks, and most demanded materials and technologies. In addition, the graphs provide an overview of the total orders compared to nominal profit to identify the true value of produced projects. In addition, usage statistics track the type of users and the number of projects that are part of their 3D production.
Being able to understand customer behavior is enabling AM businesses to better adapt to their specific business cases and the daily requirements of additive manufacturing.
3YOURMIND is already working on the next generation of advanced analytics that will push forward our mission for our customers to more accurately predict future trends. Understanding customer behavior allows 3D printing services to optimize their business and speed up the shift to the on-demand manufacturing that will define Industry 4.0.
Need a workflow solution? Explore our full suite of end-to-end software for additive manufacturing.