How to Use 3D Printing to Build More Reactive Supply Chains
Blog
Brian Crotty
|
May 5, 2020
| 6 min read
The way that the global community has responded to the covid situation has not only been a shock for the larger economy, it also presents an existential challenge to the 3D printing industry. For 3D printing to move out of the innovation department and into the procurement budget, it needs to be part of resilient supply chains. The good news is that the response effort to the medical supply shortages in covid offered some key guidelines to create this ongoing solution.
Our first article spoke about how establishing smooth transitions between 3D printing and conventional manufacturing is key. In this article, we will explore the importance of working with qualified parts, how to use stakeholders in a center of excellence model to ensure that information is shared and steps to build fully resilient procurement processes.
Qualified Digital Inventory with Distributed Manufacturing
Already in the first days of response, local 3D printers showed that production volume can be increased almost overnight with a minimum of oversight. Ideas for supporting objects, as demonstrated in thousands of submissions over the NIH platform. But it was quite clear that there was still a need for validation of the designs because the listing of potential parts overwhelmed the average clinician or purchasing agent at a hospital who is concentrating on immediate response.
That is why the NIH selected 350 designs that could be moved into clinical testing and represented different iterations of 4 key types of parts, face shields, reusable filter adapters, snorkel mask / ventilator adaptors and replacement machine parts where logistic chains failed (Spain/Italy). This is similar to the experience that we saw in our Covid response platform. It was quickly clear that we could benefit from an external partner, in this case TÜV SÜD, to review the likelihood of suggested parts to reliably solve the medical need.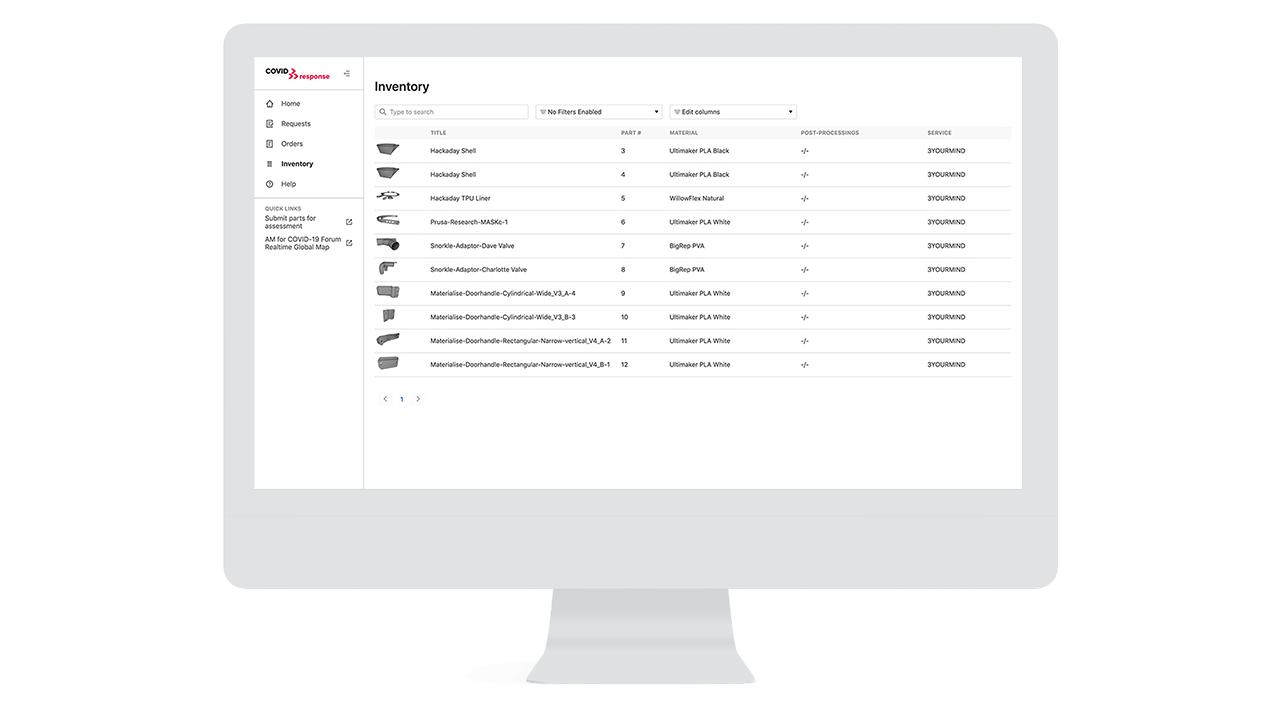 Selecting those parts was a matter of looking at the parts from the perspective of each stakeholder in the process.
Material Producer
3D Designer
Original Equipment Manufacturer
Process Engineer
Certification Company
End User
The most successful initial 3D printed parts represented exactly this coordination. The testing swabs from Formlabs and Carbon were developed specifically for response effort with medical agencies. Companies like Decathlon and Ocean Reef took an initial open design and improved it directly from the manufacturer perspective, sometimes with their own designers based on the technical specifications of the systems and the testing feedback from medical centers.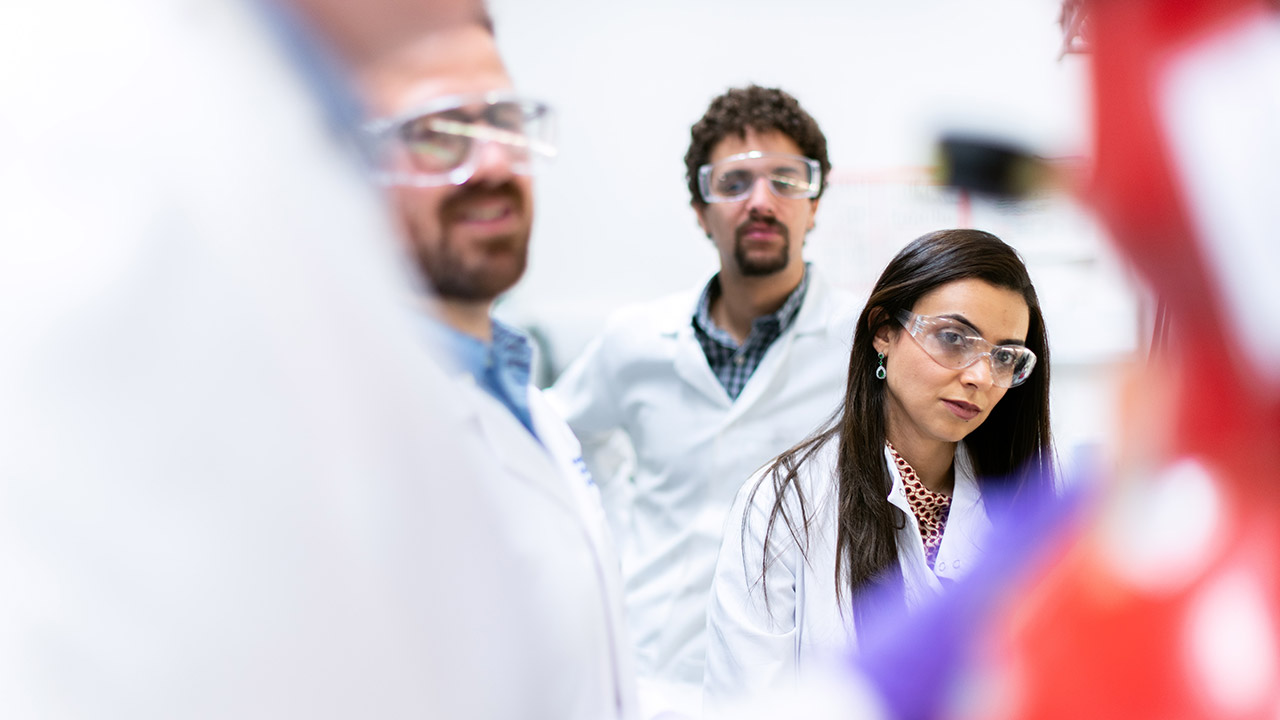 Where the gap occurred was making these parts, and only these parts easily accessible for ongoing, distributed manufacturing. In the case of the covid response platform, that was done by the 3YOURMIND team to maintain an active list of parts, including updated designs as the new designs arrive from manufacturers or end suppliers. This can be directly applied to general implementations of 3D printing where it is important to limit access to the most current designs and communicate those changes instantly over a single platform. This is also where 3D printing has the ability to build resilient inventory because it can prepare designs for multiple materials, sterilization processes or technical criteria based on input from multiple stakeholders.
LESSON #3
In open submission processes or large inventory scenarios, it is key to manage the qualified parts to focus production on validated parts.
A 3D Center of Excellence to Bring Validated Parts to End-Users
In the covid-response effort, almost overnight, there were production partnerships between individual hospitals and machine manufacturers to deliver specific parts. Face shields were the most common item because even desktop printers could print and assemble these items which is what made that a perfect fit for initiatives like that from Hubs the connection point to consumer print capacity.
Where 3YOURMIND saw a missing need was for efforts like that from Parc Taulí in Spain who quickly positioned themselves as an expert center for medical 3D printing. This allowed them to develop an inventory of over 20 parts (at the time of writing) to meet different medical equipment needs using a clinical utility validation. This model of developing a parts catalog is very similar to what we see in large organizations who are best implementing digital 3D printing inventories. An expert team evaluates potential parts, sets the design, printing parameters and works on any validation that needs to be completed. Then end users, in the case of Parc Taulí over five hundred hospitals and medical centers across Spain, are able to simply place orders like from a normal part supplier and know that it is produced according to the applicable health regulations.
This model is increasingly gaining traction for 3D printing applications. The Deutsche Bahn use case, for instance, provides a similar validated inventory of parts that can be replicated for train maintenance. EvoBus from Daimler in partnership with Additive Minds made the case that Spare Part production is the more profitable method to grow 3D printing into the next application stage. The key is identifying the 4-8% of your inventory that is suitable for 3D printing and having a competency center that provides those prepared parts. Parc Taulí represents the speed that such an inventory can be developed (two weeks) and the ability to continually develop the listing of validated parts (approximately five additions per week)
LESSON #4
The excellence center model lets AM experts validate 3D printed parts in an agile fashion, so they can be made available to end users like from a normal supplier.
3D Printing as a Tool for Reactive Supply Chains
The global supply chain is experiencing an increasing need for reactive manufacturing capacity. On one hand, companies face financial pressure to produce parts just-in-time to remain price competitive. On the other hand, with the rise of global supply chains there is an increased risk of unforeseen blockages. This could be caused by political challenges, trade wars, weather catastrophes, active fighting, cyber attacks or medical emergencies like COVID-19.
3D printing offers an important bridge manufacturing to cover this temporary gap in supply until conventional manufacturing can be established. In modern economies, it can be expected that this tension will continue to increase which is why it is important to create data driven methods to develop fragile supply chains into proactive response systems.
Yet rapid manufacturing is nothing without rapid certification. Data and process standards need to be established to ensure the reactivity of qualification processes. In the covid response platform, we brought on TÜV SÜD as a partner who has decades of experience recommending parts and processes that meet EU, US and international standards. Using a survey in the AM Part Identifier, they are able to quickly build a profile of parts to determine good fits for further evaluation.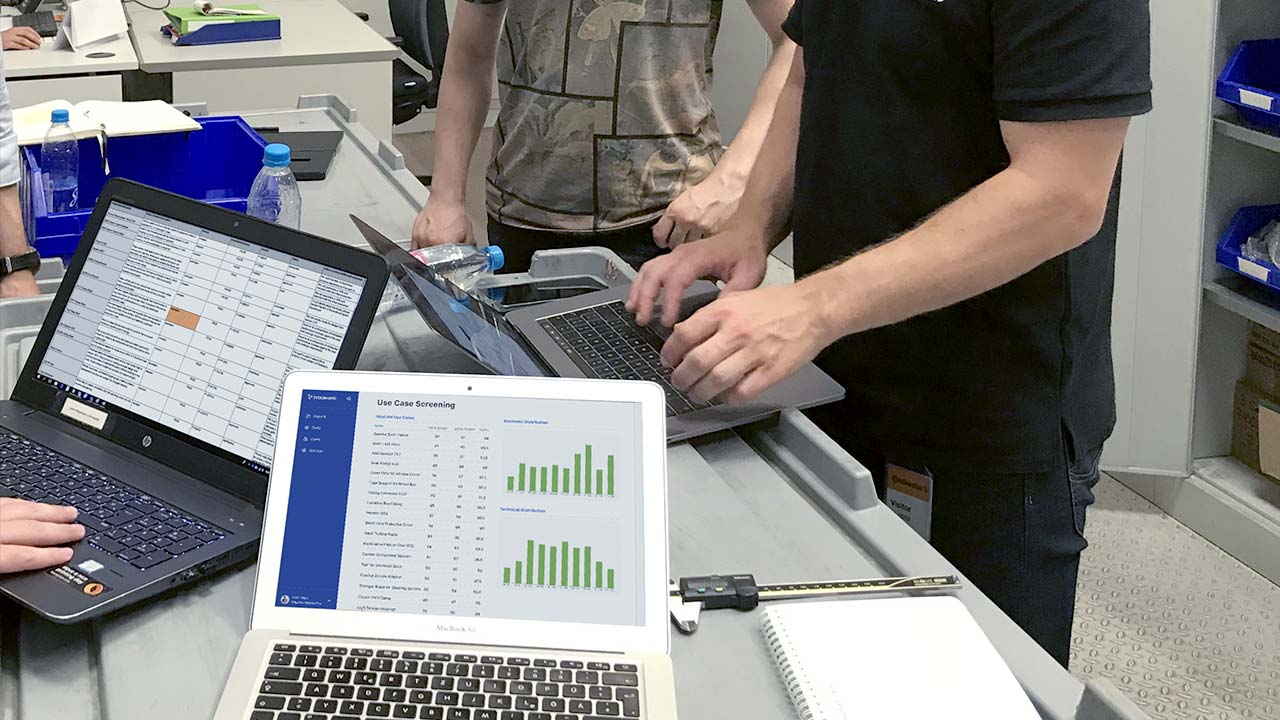 A similar initiative has been started with the Official College of Industrial Engineers of Catalonia (EIC) to evaluate parts for Public Transportation, Retirement Homes, Medical Centers and Food Industry as they are the hardest hit by the new health measures being put in place. This will allow the general public and employees to suggest solutions to improve hygiene that can be evaluated and prepared for production by engineers that are well-versed in 3D printing. This is the same model that was followed by Deutsche Bahn for their internal initiative (VIDEO) and is a proven method to build a digital inventory of valuable parts.
LESSON #5
Digital files and 3D printing can quickly produce parts as an agile supply chain, but without rapid certification and data organization, supply chains will still be limited.
More Covid-19 Lessons for the 3D Printing Industry
If you missed our first lessons about the interrelation of 3D printing and traditional supply chains, make sure to read how to establish 3D printing in its rightful location as a stop-gap production method and connection method for different components along the supply chain.
| | |
| --- | --- |
| | |
| | Coming to 3YOURMIND Blog on Thursday, May 7th, 2020. |