Digital Inventory in Automated 3D Part Warehouse
News
Brian Crotty
|
September 25, 2019
| 4 min read
3YOURMIND, one of the leading providers of software solutions for additive manufacturing (industrial 3D-printing), is launching their Digital AM Inventory module. With this extension of the 3YOURMIND workflow software, AM experts and engineers can centralize their digital inventory of AM-ready parts and production data. 3D-Files in a Digital AM Inventory are then available throughout organizations to move into production with a single click. This saves significant costs compared to a physical component warehouse, and is an important step towards distributed manufacturing.
Launching a Digital AM Inventory
3YOURMIND has worked closely for more than five years with early AM adopters including Volkswagen, GKN, EOS and Continental to develop their industry-focused software. By working with power users, 3YOURMIND can anticipate the waves as they come to shore and develop stable, standardized software that is ready to scale alongside AM production.
Over the last twelve months, the volume of orders 3YOURMIND customers have processed has grown substantially. After on-the-ground interviews by the product team, it was clear that the centralization of AM files and order data into a single, searchable database would bring the most value to their customers. This has become the 3YOURMIND AM Digital Inventory.
The main features of the AM Inventory are focused on solving the most common needs of AM production:
Centralized AM file management
Storing part specifications and production requirements
Visibility of 3D model versioning
Repeat ordering with saved material and technology selections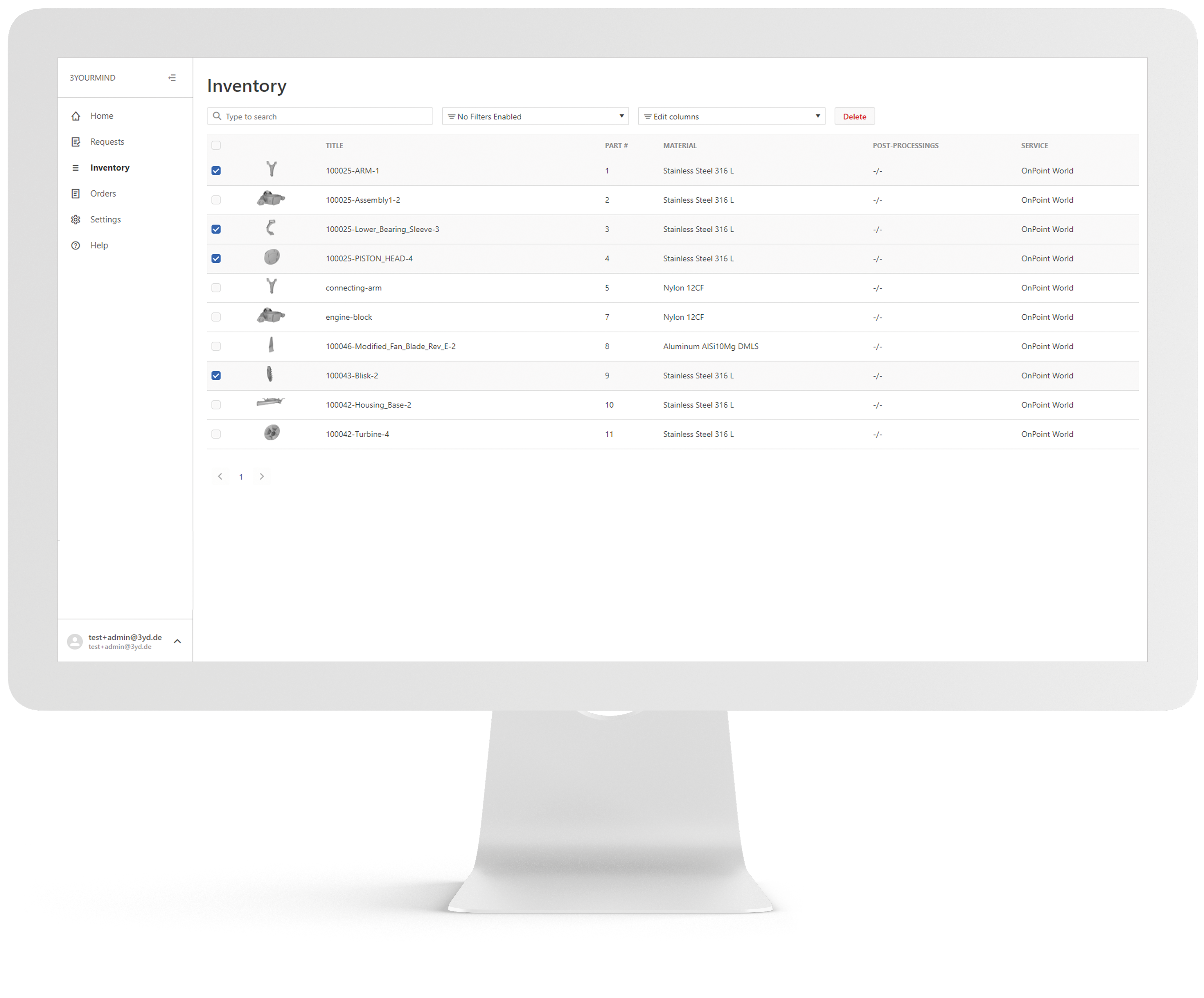 Accurately Filling an AM Inventory
Simply storing files is not enough. 3YOURMIND is leading the drive to fill digital AM inventories with production-ready parts. The company began by creating direct connections to all the leading CAD systems in 2015 to simplify the transfer from CAD software to part production. It quickly became clear that the level of knowledge about preparing files for 3D printing is still very low.
In 2017, 3YOURMIND launched the inventory analysis module of their part screening software to find strong use cases from existing part data. In 2018, the business case screening module was added to validate new ideas for AM parts from employees of companies like Deutsche Bahn. This proved especially useful for cataloging replacement parts.
Now in 2019, 3YOURMIND launches this new tool to automate the movement of parts from their order management software directly into a digital inventory to be saved for future production. The AM inventory can also be directly filled with parts by AM experts and design engineers to give a one-click ordering system that includes production requirements, technology and material selection.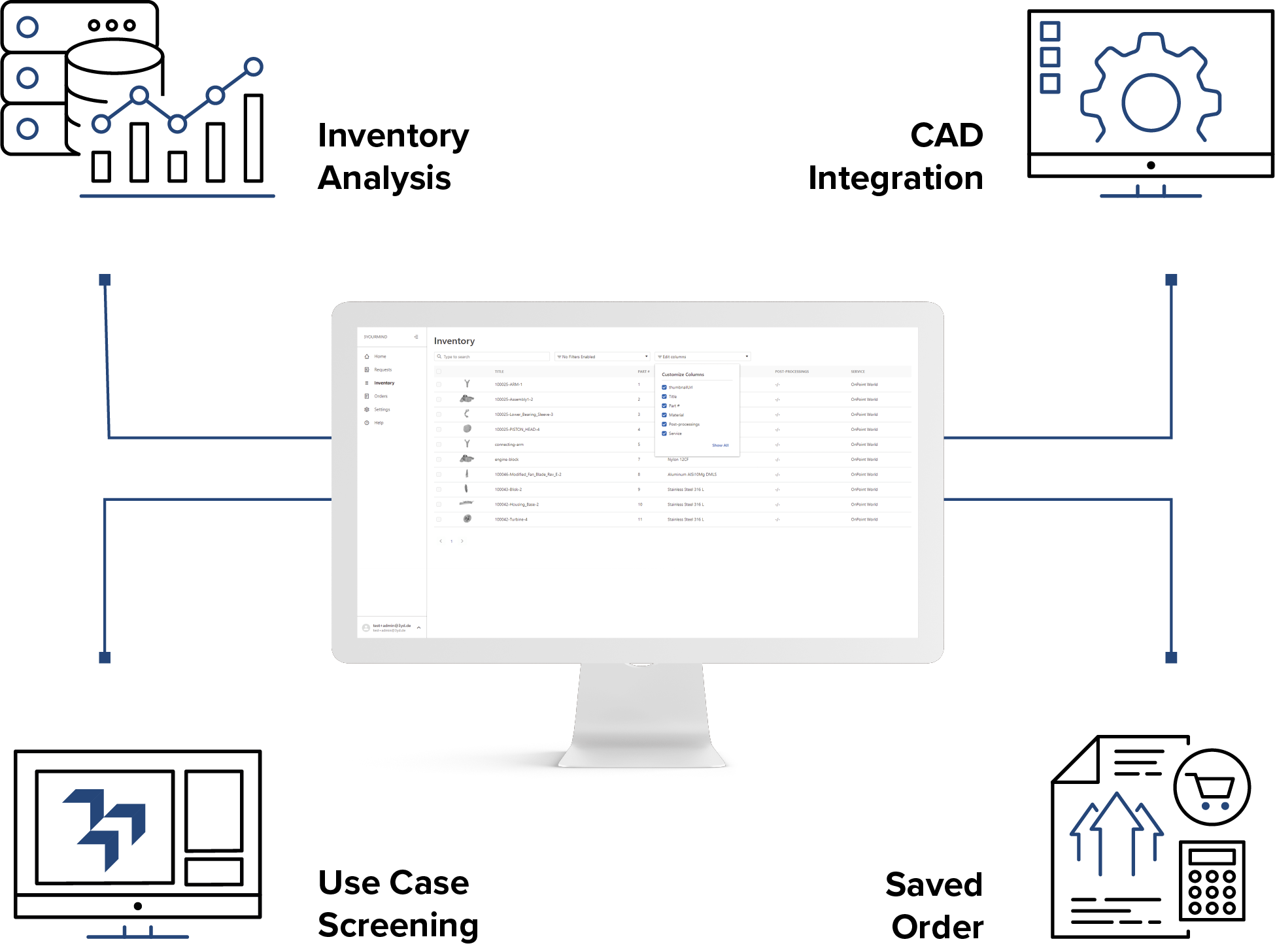 Companies looking to scale their AM now have four clear tools to move the right parts into additive manufacturing, already prepared and adjusted for the production floor.
Ordering AM Parts via API
3YOURMIND has begun another early access program with three customers to work on the next phase of development for the Digital Part Inventory. The next requested use case is to place AM orders from the AM Inventory using an existing ERP (Enterprise Resource Planning) system. The 3YOURMIND API has included instant ordering for almost five years. They will now be extending their API to allow external systems to access the items in the digital inventory, which in turn collects data summaries and manages data via customer-specific management systems.
As with the early access program for their production quality management, the participants are power users from different sectors, selected to ensure a wide variety of use cases during the development process.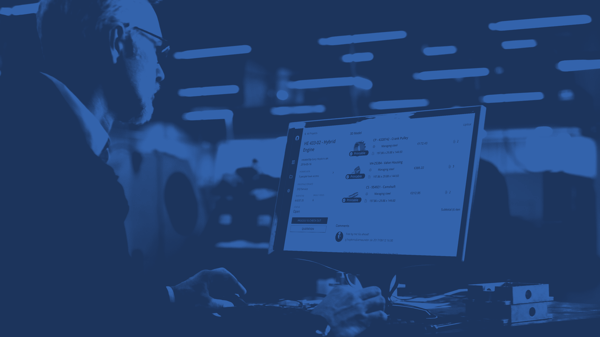 Top Use Cases for an AM Part Inventory
AM Inventories that streamline Distributed Manufacturing
are an important step towards serial production. The AM Inventory will store optimized 3D files, production requirements and order selections to help ensure that parts are produced the same way every time. Time savings are substantial, achieved by keeping the final production data in a single, validated system. This is especially important as employees new to additive manufacturing are added to the team.
In the nearer future, 3YOURMIND will begin to trigger production from external systems so that there will be even less room for error when triggering AM production.
AM Inventories for Spare Part Management
will be populated by engineers who prepare 3D models of parts that were previously designed for conventional manufacturing. The preparation and initial production tests can all be managed in the 3YOURMIND digital inventory to communicate throughout the value chain and track file versions.
When the technology, material and production settings have been finalized, the part can be ordered the moment the part is needed by anyone with access to that part - with a single click. This reduces inventory costs, logistics costs and downtime by using distributed production of AM engineered parts that can immediately be fed into production at the nearest available 3D printer.
AM Inventories Provide Structure to Manage Tooling Applications
Traditional tooling molds can range from $10,000 to $100,000, and often demand weeks of production time. Working with a digital AM Inventory, the development of molds can be managed iteratively using 3D file versioning. Prototyped 3D printed molds can usually be produced and tested in a single day compared to six to eight weeks with conventional manufacturing. 3D printed materials can also increasingly be used in the final mold applications for smaller production runs.
Production lines that require special jigs and fixtures can also access them from a central AM Inventory. We predict that those 3D files will increasingly be prepared by the original design engineer along with the part to make on-demand serial production smoother.
Repeat Ordering of Past Parts
Sometimes, the problems that need to be solved are even more basic.
Additive manufacturing is still a domain of manual work, including custom excel spreadsheets, shared folders of parts, and printed paper to track production. By shifting essential 3D files, part requirements and ordering information into a searchable online inventory, huge amounts of time are saved in a production environment as soon as a part is needed again a few weeks or months later. From the digital inventory, communication between the production engineer and the order manager is saved alongside the selections and quality assurance documentation. This allows all parties to move far quicker when an order is revisited down the road.
---
For more information, visit our digital inventory page or contact us.