FAQs: Agile Product Lifecycle Management
Product
Marie Thiébault
|
March 14, 2022
| 4 min read
In this article, product manager Marie Thiébault answers frequently asked questions about 3YOURMIND's Agile Product Lifecycle Management Software.
What is Agile Product Lifecycle Management?


3YOURMIND's Agile Product Lifecycle Management (PLM) solution helps enterprises analyze their part inventory for additive manufacturing use cases. Agile PLM enables part analysis through two approaches: a top-to-bottom inventory analysis and a bottom-up use-case screening.
During this process, Agile PLM analyzes part data, scans for AM printability, and provides a technical and economic score to help determine whether a part is cost-effective using 3D printing technology.
As a result, enterprises can create a digital inventory of AM parts that can be connected to 3YOURMIND's Agile Enterprise Resource Planning (ERP) and Agile Manufacturing Execution Systems (MES) modules to manage AM job orders and production schedules. When used in tandem with Agile ERP and Agile MES, Agile PLM creates an end-to-end information stream for enterprises to evaluate and manage their additive manufacturing data.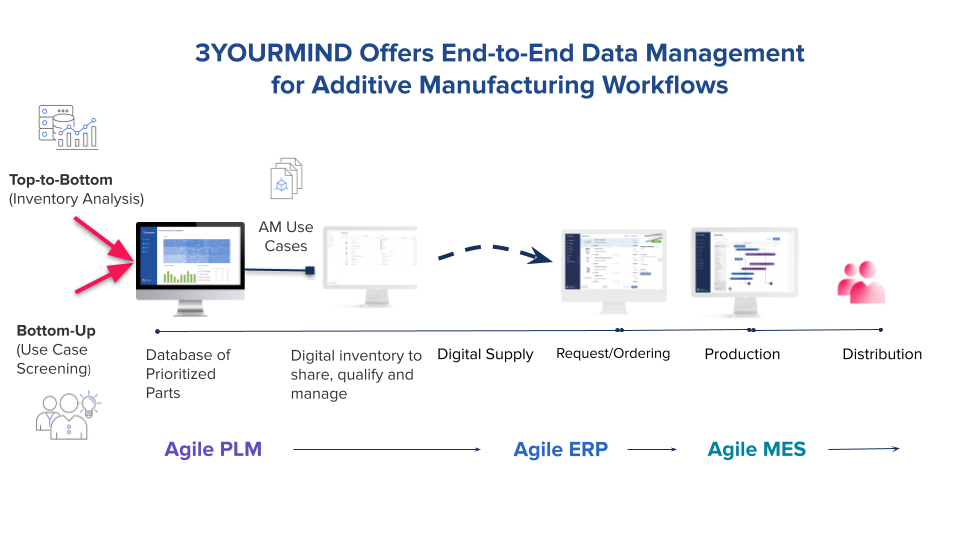 How can my company be more mature for additive manufacturing?

Before a part can be printed, you need to know which parts in your inventory are suitable to print. Companies that are mature for additive manufacturing can demonstrate suitable business use cases for producing additive parts. However, this process is traditionally time-consuming and relies on the knowledge and availability of AM applications engineers to identify suitable parts.
3YOURMIND's Agile PLM is a scalable software-driven solution to screen thousands of parts with less effort from experts. The software helps to simplify the part identification process by analyzing inventory data in minutes. As a result, enterprises can save up to 80% of the time normally required to identify parts.

How does Agile PLM analyze suitable parts for AM?

First, Agile PLM evaluates the part for economic value to determine whether a part is cost-effective to print.
At the same time, the part undergoes a technical assessment to evaluate if the part can be printed using additive manufacturing. Agile PLM screens multiple technologies in parallel and gives advice on which is suitable. If the component demonstrates technical and economic value, the part can be prioritized for further technical evaluation by AM engineers.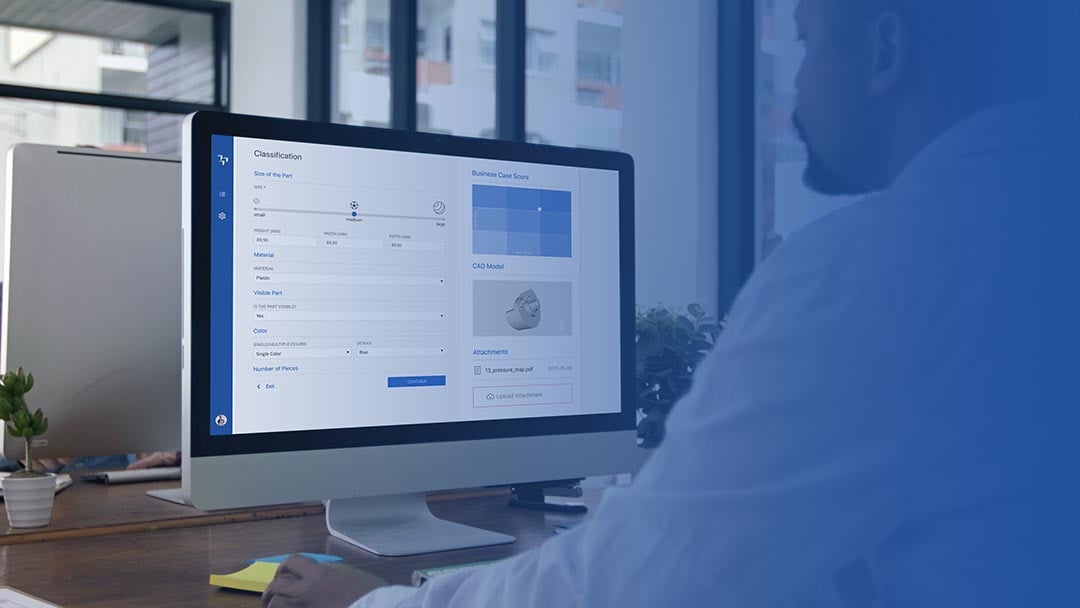 What if my data quality isn't great?

We have experience with data management for spare parts and can offer guidance to develop data management best practices within your company.

What type of file uploads does Agile PLM support?
Agile PLM supports STL, STEP, .3MF, .zip, and CAD files, among many other file formats.

How many files can I upload to Agile PLM at a time?

Our Agile PLM solution can support bulk imports, enabling you to analyze part data more quickly and with fewer delays.
What if I don't have 3D files?

That's ok, we don't need it! We can process metadata to evaluate AM suitability.
Can PLM analyze 2D drawings?

We know that analyzing 2D drawings is a highly requested functionality and are currently working to develop a feature that can support 2D drawings.
Nevertheless, most of the data we require for the analysis can be found in databases like Agile PLM to narrow down the number of parts that require manual information input from 2D drawings.
I don't own the parts data. Can I still use Agile PLM?

That's okay, we can work with the data you do have (such as economic information) and connect with the parts supplier to protect intellectual property through end-to-end encryption.
How does Agile PLM suggest material substitutes?

Agile PLM has the capabilities to suggest substitutes that can be configured within the software system. Currently, we use a market standard material database to suggest the best material substitutes for your part.
How do I demonstrate the value of Agile PLM to management?

Agile PLM can produce cost and time savings for companies eager to identify additive use cases for spare parts but have too much inventory data or not enough resources to analyze parts manually.

Ask us about our pilot program to discover what value PLM can unlock in your AM operations.

How much can I save using Agile PLM?

Depending on the size and scope of your organization, Agile PLM can result in $5-$9 million in savings per year in production costs, warehouse operations, production downtime through the use of qualified AM parts.

In addition, firms can save upward of $60,000 in labor costs by reducing time spent identifying AM parts.
Agile PLM is helping to make 3D printing accessible to more industries. Chat with a team member to see if Agile PLM is right for your business.