Metal 3D Printing #2: Healthcare and Architecture
Courtney Pelletier | August 4, 2017 | 5 min read
In our previous post we discussed the current use cases of metal 3D printing in the aerospace, defense, and automotive industries, and the growth that metal AM technologies are bringing into these sectors. This post focuses on healthcare and architecture, the other two industries that are being fundamentally changed by the adoption of metal AM.

A Closer Look at the Metal AM Market
Though the automotive industry is the most publicly visible adopter of AM technologies, the healthcare industry is poised to surpass the automotive industry in utilization of metal AM over the course of the next eight years. Revenue in healthcare from metal AM is doubling every three years. Beginning in 2020, metal 3D printing revenue within the healthcare industry will consistently grow at a rate of more than double its revenue in automotive applications.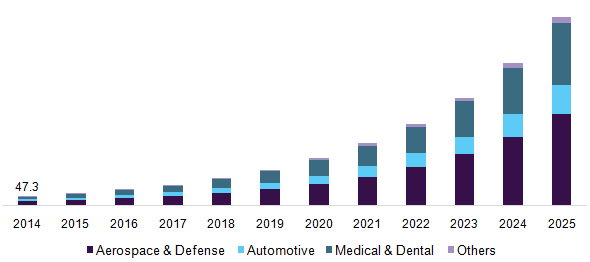 Image Source: Grand View Research
Innovative 3D Metal Applications in Healthcare
The healthcare sector is where the mass customization benefits of metal 3D printing are most relevant, because such technology enables individualization of products that fit best with the uniqueness of the human body. Indeed, this industry alone totaled over 30% of metal AM market share because of growing utilization in implants, customized medical devices, and surgical equipment like crowns and bridges.
Additionally, metal additive manufacturing is enabling intriguing innovations in healthcare that otherwise would not be possible, while also improving overall medical success rates. For example, by using metal 3D printing, researchers at NC State University and the University of North Carolina were able to improve the acceptance rate of pins that are implanted in the human body in order to attach artificial limbs by designing and printing fine surface textures on the pins.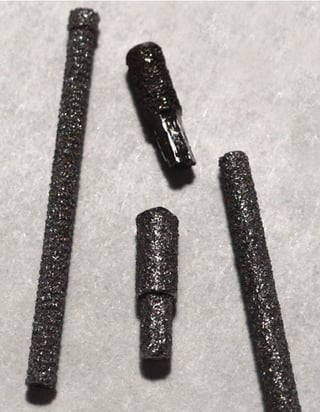 Image Source: 3D Printing and Additive Manufacturing Journal
These complex textures recreated actual bone structure, overall reducing the body's natural reaction to reject foreign material. Metal 3D printing has also allowed researchers to construct a bone drill with an internal cooling system that prevents tissue damage, and a small heart stabilizer designed especially as a solution for delicate keyhole heart surgeries.
The healthcare industry's current utilization of the emerging metal additive manufacturing field is proof that such technology will continue to propel innovation forward in the medical and dental sector.
Individualized Architecture with Metal AM
In the journal Fabricate 2017, the benefits of metal 3D printing to create alternative structural technology are presented. The overall advantage of adopting metal AM in design and production for the architecture sector again lies in the individualized nature of the industry. Most high-profile projects are unique and require complex construction elements that can benefit from by mass customization to reduce laborious production and assembly processes.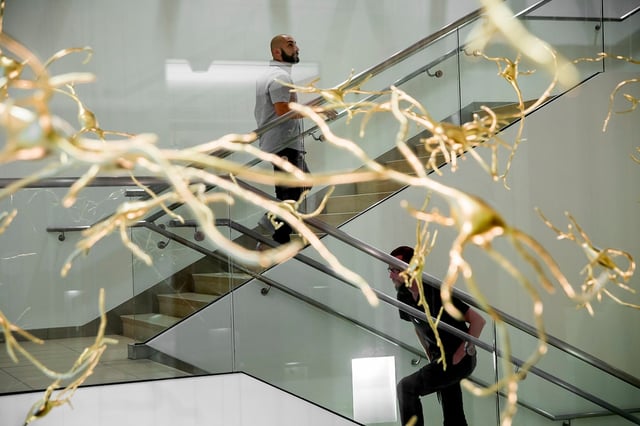 Image Source: McGovern Institute
Two architectural projects were examined in the journal to evaluate the impact of metal 3D printing utilization, one sculptural and one structural. The sculptural project, called Schwerpunkt, was completed by Helmick Sculpture for MIT's McGovern Institute for Brain Research in Cambridge, MA, USA. In the production of Schwerpunkt, metal 3D printing enabled a more efficient workflow and used lightweight structures that are only achievable through AM production in order to ensure that the sculpture met its weight restrictions. Ultimately, the project was completed much more cost-effectively than if it had been completed using traditional methods. The structural project, a two-floor entrance pavilion in an office building in Northern Massachusetts, was completed by NADAAA. Metal 3D printing was the most effective production option for this project as well, because the design was so geometrically complex that it required a large variety of different and unique, but still structurally-sound components. Each component was produced from a 3D model without requiring any extra machining cost or lost time for retooling.
Overall, the benefits of metal additive manufacturing technologies cater directly to the needs of the architecture industry, which is always moving towards more custom-designed buildings. Metal 3D printing will provide new production strategies to improve cost-effectiveness and efficiency in construction projects.
Metal 3D Printing Fueling Symbiotic Growth

Image Source: Siemens
The progress in metal 3D printing is producing growth across all manufacturing sectors, but this industrial growth is simultaneously driving technology developments in metal AM. This relationship is most clearly visible in the emergence of an increasingly vast catalog of metal materials available for 3D production. For example, nickel-based production technologies are quickly becoming the second most utilized material strategies in metal 3D printing, driven by adoption in aerospace, oil and gas, automotive, and healthcare.
The rapidly advancing field of metal 3D printing ensures growing opportunities for traditional manufacturing in every sector to enter into Industry 4.0. Learn more about where 3D printing can make the largest impact for healthcare and architecture sectors, or read about the influence of metal AM on the aerospace and automotive sectors in our previous blog post.