Hola desde España. 3YOURMIND@3DFactory Incubator
News
Brian Crotty
|
October 26, 2019
| 3 min read
3YOURMIND recognizes Spain as an increasingly important economy for additive manufacturing capacity. The AM workflow software company has added ADDvance as an official partner and software distributor for the Spanish market to serve the companies there locally. The core 3YOURMIND team will also be partially located at the 3DFactory Incubator in Barcelona led by the Consorci de la Zona Franca de Barcelona and Fundación Leitat, who will help make key introductions into the Spanish market. 3YOURMIND is positioning themselves as the go-to software for Spain's growth in high-tech manufacturing.
Spanish Additive Manufacturing
Spain is the world's thirteenth economy in terms of nominal GDP and is an important location to support industrial production in Germany and France. Spain also includes significant additive manufacturing centers from GKN and ARRK and houses HP's new 3D printing and digital manufacturing center in Barcelona. As 3YOURMIND focuses its new software development on connecting and automating distributed industrial production centers, connecting the European manufacturing market to Spanish producers will become increasingly important.
We see how fast Spain is adding additive manufacturing alongside their current production offering, which means they are ready to optimize their AM workflows now and over the coming years. 3YOURMIND wants to be the partner in pushing that development and using their software to lower the production management costs so that Spanish companies can meet their AM goals faster. Vamos!
Krystian Pawełczyk
Sales and Business Development
3YOURMIND
ADDvance joins as Spanish-speaking Distributor
To properly address the Spanish market, 3YOURMIND knew it would be important to have a Spanish-speaking contact point locally in Spain. ADDvance was an early adopter in Spain and provides a balance of executive-focused offerings, training programs, and industry connections that will support 3YOURMIND to better serve the Spanish market. They also have experience with software integration and automation, both of which will be key for supporting a long-term move towards Industry 4.0.
Initially, 3YOURMIND will be working quite closely with projects together with ADDvance with the goal that they become the primary communication and implementation point in the coming years.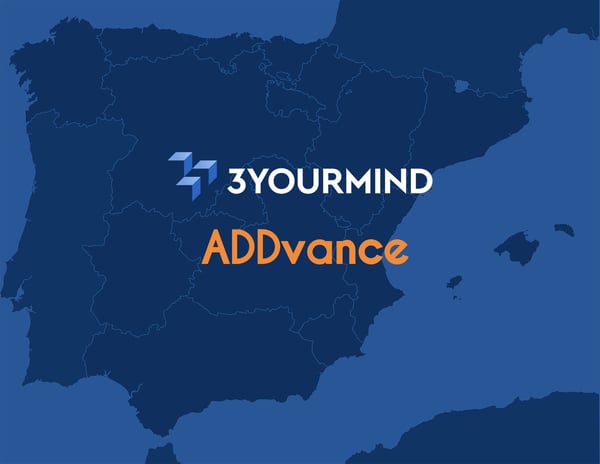 Market Introduction through the 3DFactory Incubator
This October, 3YOURMIND was also officially accepted into the 3DFactory Incubator in Barcelona which is focused on high technology businesses using 3D printing. The AM workflow software from 3YOURMIND is a perfect complement to bringing 3D printing into SMEs and tier supplier networks in Spain.
Krystian Pawełczyk will handle the business development of the Spanish market along with ADDvance. Additional support will come from Marie Thiébault, Regional Sales Manager, France who also speaks fluent Spanish and worked in a Spanish Aluminum Foundry where they already began to experiment with 3D printing.
We are excited to be part of 3DFactory to bring our 3D printing workflow software to the spanish industrial sector. We want to take this opportunity to promote our solution to identify parts in additive manufacturing. This solution, called AMPI uses a combination of economic and technical criteria to identify the best candidates to consider for additive manufacturing as a cost effective technology. Once identified, the parts with the greatest potential are loaded into a digital inventory directly synchronized with the production.
Marie Thiébault
Regional Sales Manager, France
3YOURMIND

3YOURMIND helps additive manufacturers successfully achieve automated workflows. Learn how 3YOURMIND customers are utilizing additive technology to build parts on-demand.