The COO's Guide to Building a Digital Warehouse
Blog
Ryan Hayford
|
June 30, 2020
| 8 min read
Build more flexible supply chains by enabling on-demand additive manufacturing.

In this article, learn eight critical steps for building a digital warehouse to help kickstart the production of AM spare parts.
The spare parts business is struggling. By 2025, 8% of SKU's will transition from conventional sourcing to on-demand additive manufacturing. The global MRO market is estimated at $660 billion — impacting oil and gas, defense, energy, and transportation industries. Those that do not embrace the next generation of industrialization will be left holding the keys to empty warehouses or witnessing a lack of utilization of outdated capital equipment. These industries are notorious for having vast, complex supply chains, and the lack of information/data from the OEM's tends to be problematic when it comes to quick production requirements. Simply put, many facilities are becoming more self-reliant and contemplating the next steps to take. Supply Chain Managers and Innovation Officers are asking, how do we prepare our facility to simultaneously meet the demands of our current clients and unlock the potential for future innovation?
Most Recently in the MRO Market...
According to a 2017 report done by Airbus, the MRO market is expected to double in the next 20 years. What is currently estimated to be a $60 billion industry in 2020 is projected to exceed $120 billion annually by 2040. This is predicated on numbers suggesting that air traffic will grow at 4.4% per year, resulting in over 40,000 aircraft in the skies.
Total, French oil & gas company, shared their recent success with additive manufacturing and highlights design freedom as a major advantage. Total was able to limit drilling rig downtime by 3D printing repair parts locally and bypassing expensive logistics and shipping costs. In addition, the company expresses that there is a big opportunity for AM within their industry. Engineers are interested in building lighter-weight replacement components that have the same structural integrity as traditional processes. It's worth mentioning that local production and less raw material waste benefits their carbon footprint reduction goals.
In 2018, the third-largest Aerospace MRO provider, Lufthansa Technik, signed an agreement with Oerlikon to accelerate additive manufacturing processes for MRO applications. Lufthansa plans to take advantage of the cost savings in manufacturing while improving efficiencies with procurement, warehousing, and supply chain management. According to the VP of Lufthansa's Engine Services Group, Bernhard Krueger-Sprengel, this fits in with their plan to have local AM repair capabilities on a global scale.
The US Navy recently announced a 28-month plan to upgrade the Navy's USS George H.W. Bush (CVN 77) aircraft carrier with 3D-printed parts. The goal is for the Navy to seamlessly replace broken parts and reduce the amount of time and money it traditionally takes to do so with conventional manufacturing. Typically, replacing parts would require a vessel to return to port, jeopardizing time, resources, and the mission.
In February 2020, Pratt & Whitney announced their first MRO application of additively manufactured aero-engine components. By enabling their engineering teams to think outside the box and identify alternative solutions, Pratt & Whitney is able to reduce dependency on conventional fabrication processes and fill any gaps within the supply chain. According to their representatives, this is a groundbreaking innovation that is part of a wider technology roadmap integrating additive manufacturing, artificial intelligence, and robotics.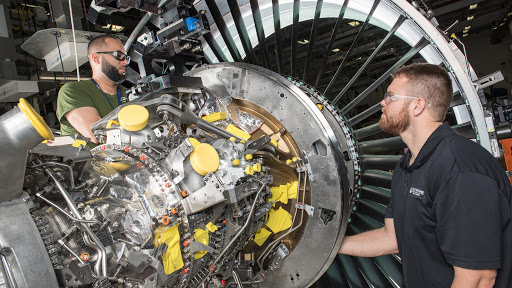 The Maintenance, Repair, and Overhaul (MRO) market is heavily weighted to those within the oil & gas, defense, aerospace, and transportation industries. In fact, these major industries rely on one another and tend to overlap when it comes to resources and supply chain partnerships.
For those reasons and many others, their challenges and solutions often coincide. Due to the strict certification and regulatory guidelines that these industries impose, it's no surprise that the adoption of additive manufacturing has been thoughtful and deliberate.
It began with 3D printing non-load bearing, thermoplastic components for cabin interiors, and is now transitioning to the production of impossible to produce metal parts that are lighter weight and cheaper. Impossible to produce is defined by replacement parts that are no longer available in the warehouse inventory, or whose tooling costs are too high to justify. Remember, the lifespan of an aircraft is thirty years, and the average cost of a Boeing 747 is approximately $418 million.
Keeping these birds in the skies is a major economic priority.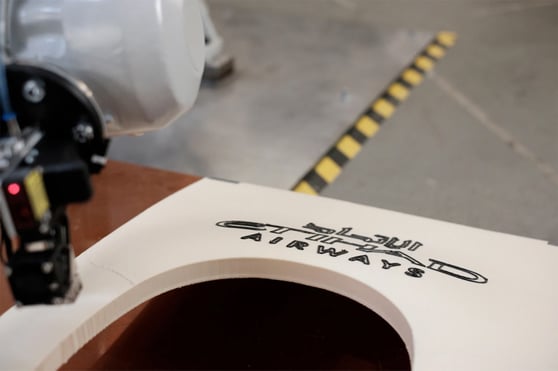 Key Performance Indicators
MRO supply chains are being tasked with finding alternative ways to produce parts that will lead to cost savings for themselves and their partners. As witnessed in the articles mentioned above, early adopters are making substantial changes in the way they do business — and if the supply chain cannot keep up, they will be left behind.
Through standardization and part identification, it's possible to bridge the gap and remain relevant. So what are the specific key performance indicators that MRO companies are addressing?
Inventory turnover ratio:
If the turnover rate has shown any signs of decrease or inconsistency, it may be time to reevaluate. COVID-19 has certainly impacted these numbers, and it's challenging to predict what this indicates for the future. One thing is for sure, the traditional warehouse is going to look very different.
Lead-time for product delivery:
According to experts, lead times for some casting tools can take up to 20 months. This means one of two things; (1) that a train, industrial machine, or oil rig is out of service for two years, or (2) the company needs to predict which components are going to fail and overcompensate the stockpile. It's a lose-lose situation and is likely to change in the future.
Enhanced customer engagement:
What have you done for me lately? Competition is fueled by innovators and early adopters. There are too many options for new partnerships, therefore MRO facilities must identify new ways to create value for their clients. Additive manufacturing makes it quicker, easier, and cheaper for customers to obtain parts.
Potential for innovation that results in cost savings:
Innovate or Die. Even the largest and most profitable companies are in jeopardy of failing if they do not invest in the future. Just ask Pan American World Airways (aka Pan Am).
The Digital Warehouse
The Digital Warehouse, or the commitment to digital inventory, is an ever-evolving concept that manufacturers, production facilities, and supply chain managers are adopting to increase efficiency and lower overhead costs.
Instead of stocking a physical warehouse with quantities of spare parts that may never be used, facilities are digitally storing the files for the when/if scenarios.
In a recent article from Forbes, Sarah Goerhke explains, "validation through each step of this workflow requires careful examination and the establishment of new best practices to be instituted." This includes considerations such as IP security, part performance, tooling flexibility, and the ability to communicate production transparency data across an organization.
In order for the Digital Warehouse to be effective, it requires information collected through reliable and accurate software systems.
Agile Product Lifecycle Management (PLM) was originally introduced to the market as a means to attach value to the product development chain and increase cross-communication between design and production departments. It's proven to be a valuable tool and has adapted to become quite the resource for facilities to standardize their processes.
Furthermore, Agile PLM assists to identify parts that are ideal for AM and can even analyze files with missing information, which ultimately benefits the Digital Warehouse.
The Agile Enterprise Resource Planning (ERP) software is the back-end tool that ties together all the different technologies, materials, and data that enables an organization to stay organized and more importantly, make money. Having a customized ERP system will enhance the order management process and create a more seamless experience for customers.
Learn more about the Agile PLM and Agile ERP for the Digital Warehouse.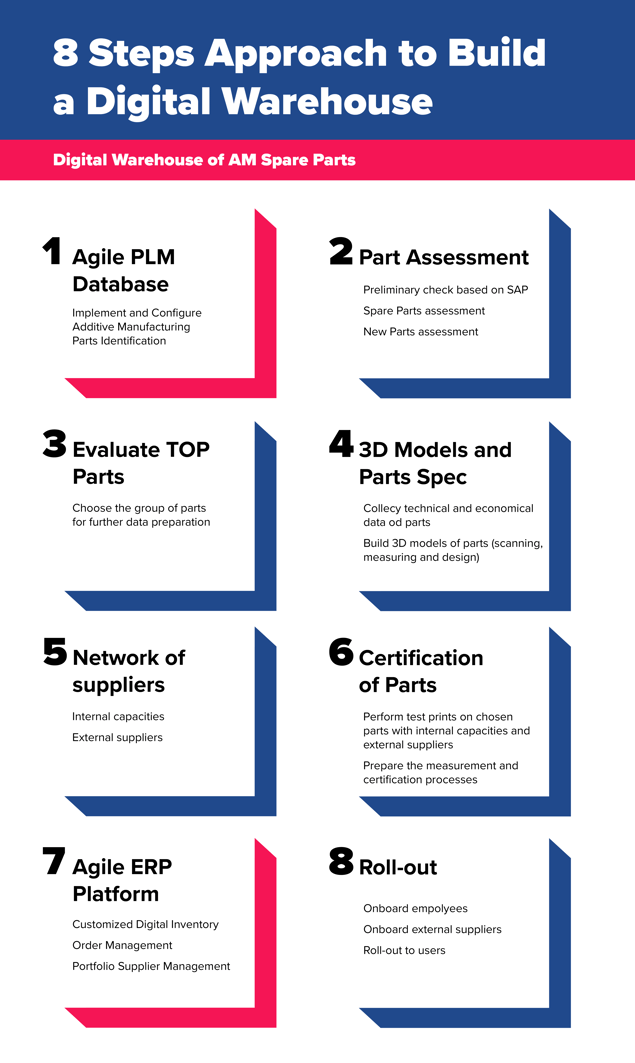 Each industry will face its own unique challenges when tasked to build its version of the digital warehouse.
For example, manufacturing and MRO companies affiliated with oil & gas will not have a complete database of existing parts available, and will most likely be missing valuable data needed to store digital files.
For those operating in the defense industry and required to use multiple vendors (reference defense in additive article), it can become challenging to organize suppliers and simplify the order management process.
Regardless of industry, all MRO facilities will require assistance when it comes to identifying the top parts that can be replaced by AM and providing the best economic return.
ROI is the supply chain manager's highest priority.
Tackling specific challenges such as protecting IP, part certification, and data readiness with workflow software will result in tangible and intangible benefits to the organization. The ability to track and analyze real-time production data while ensuring part repeatability will eliminate mistakes immediately and save the facility time and money.
Because of that, engineering resources can be redirected to new innovation strategies or alternative problem-solving. Data is the lifeblood for the factory of the future. The integration of workflow software and the promise of Industry 4.0 provides a major underrated benefit —transparency of production status throughout an organization.
Numbers never lie.
Deutsche Bahn Railway Company
Deutsche Bahn is operational in 130 countries and transports approximately 7 million passengers per day, making it the most profitable railway company on the planet. Sustaining their leadership position requires constant innovation that improves their ability to become more self-reliant. With aging equipment and non-existent suppliers, Deutsche Bahn decided to use AM workflow software by 3YOURMIND to centralize their data and identify parts that would increase efficiency.
By bringing in outside expertise, DB increased their knowledge of additive manufacturing and immediately implemented new parts to their process, improving the bottom line.
We want to reduce downtime for our customers, keep all assets in operation, not standing in our maintenance facilities. And that is where AM can help us to achieve this goal.
Florens Lichte Head of AM, Deutsche Bahn
Building the digital warehouse is about increasing efficiency and identifying opportunities for improvement and self-resilience. COVID-19 is forcing every business to think creatively and with the major disruptions to the supply chain, this will be a major consideration.
Innovation is not a word, it's an action.
Not enough?
Want to know more about additive manufacturing and supply chain?
Watch the replay of our episode of the 3D FRIDAY TALK SHOW: "Additive Manufacturing in the Parts Supply Chain: Dream or Reality?"