3YOURMIND Teams Up With POLYLINE Lighthouse Project
Blog
Customer Story
News
Ryan Hayford
|
May 8, 2020
| 5 min read
The POLYLINE project brings together 15 industry and research partners from Germany to establish a landmark automated factory for additive manufacturing (AM). The 3YOURMIND Agile Manufacturing Suite will be the software layer that connects and manages the entire AM workflow. The German Ministry of Education and Research (BMBF) is investing €10.7 Million Euro into the POLYLINE project. The goal of the project is to completely automate an AM production line for automotive parts from BMW - from CAD model to 3D printing and including quality assurance. The resulting production factory will be a lighthouse example of Industry 4.0, leading the way for the next generation of manufacturing.
Establishing an End-to-End AM Production Chain
The POLYLINE Project (Integrated Production Line Applications for Polymer-based AM Technologies) is a cooperation of leading german companies and research institutions in additive manufacturing to establish a single, seamless production line for production of end-use AM parts in laser sintering technology. Sponsored by the Federal Ministry of Education and Research (BMBF) in Germany, this project represents an investment of 10,7 Million Euro. Each partner was selected to cover a specific part of the manufacturing value chain from 3D printing to post-production and quality control.
The 3YOURMIND Software Suite will handle the central data management between all hardware and software systems. This is a critical role to create data transfer points that will allow orders placed by BMW in their ERP system to immediately be moved into production with each step being completed by an industry partner and tracked in the Agile ERP or Agile MES from 3YOURMIND.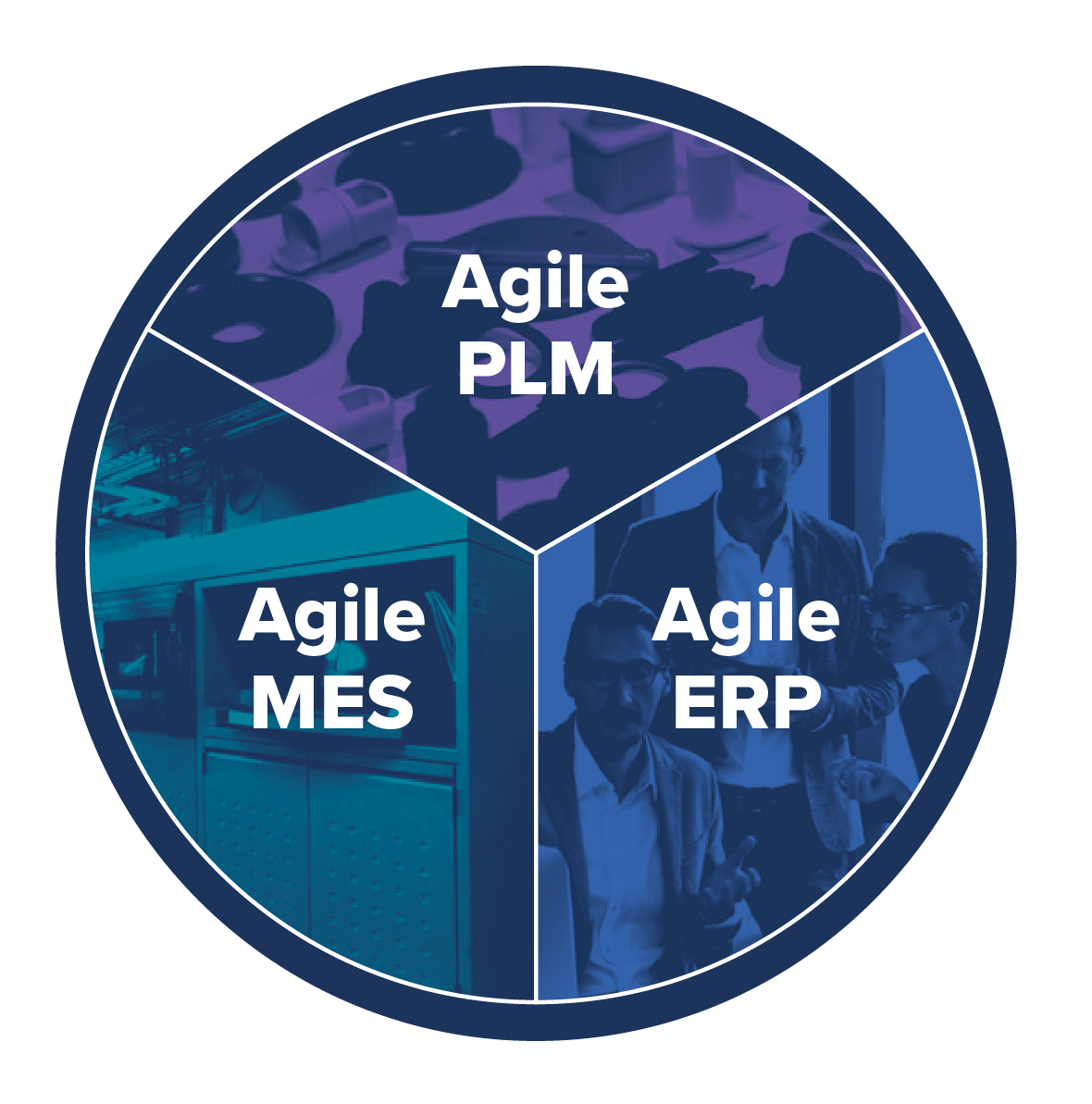 By partnering with leading players of the AM industry, BMW will be able to create the AM factory of the future and bring automation to the next level. Ensuring repeatable and reliable results while cutting costs and embracing the next generation of agile manufacturing. The automotive sector is notorious when it comes to reliability testing, part validation and failure/process documentation. The POLYLINE lighthouse project will certainly impact the production line for BMW but the information collected from this endeavor will serve as a formula to build autonomous factories for other industries and manufacturers.

Workflow Automation from Production Planning to Quality Assurance
In order to provide a full additive manufacturing workflow automation, 3YOURMIND will play a central role in the project in managing the data streams. This will begin with storing the key production parameters alongside the 3D file and the respective order in the Agile PLM. Based on available production capacity in the POLYLINE, the Agile ERP will automatically distribute the orders for production.
A critical part of the process will be carried out by the Agile MES from 3YOURMIND which will use direct integrate and data transfer to produce parts from BMW and MINI vehicles without human intervention. This will include automated delivery of prepared build data to EOS polymer 3D printers, transportation between steps by Grenzebach Automated Guided Vehicles, cleaning and dyeing in Krumm-tec and DyeMansion machines, and part analysis and tracking with Optris and Additive Marking. All process documentation will be automatically created and stored in 3YOURMIND's Agile MES.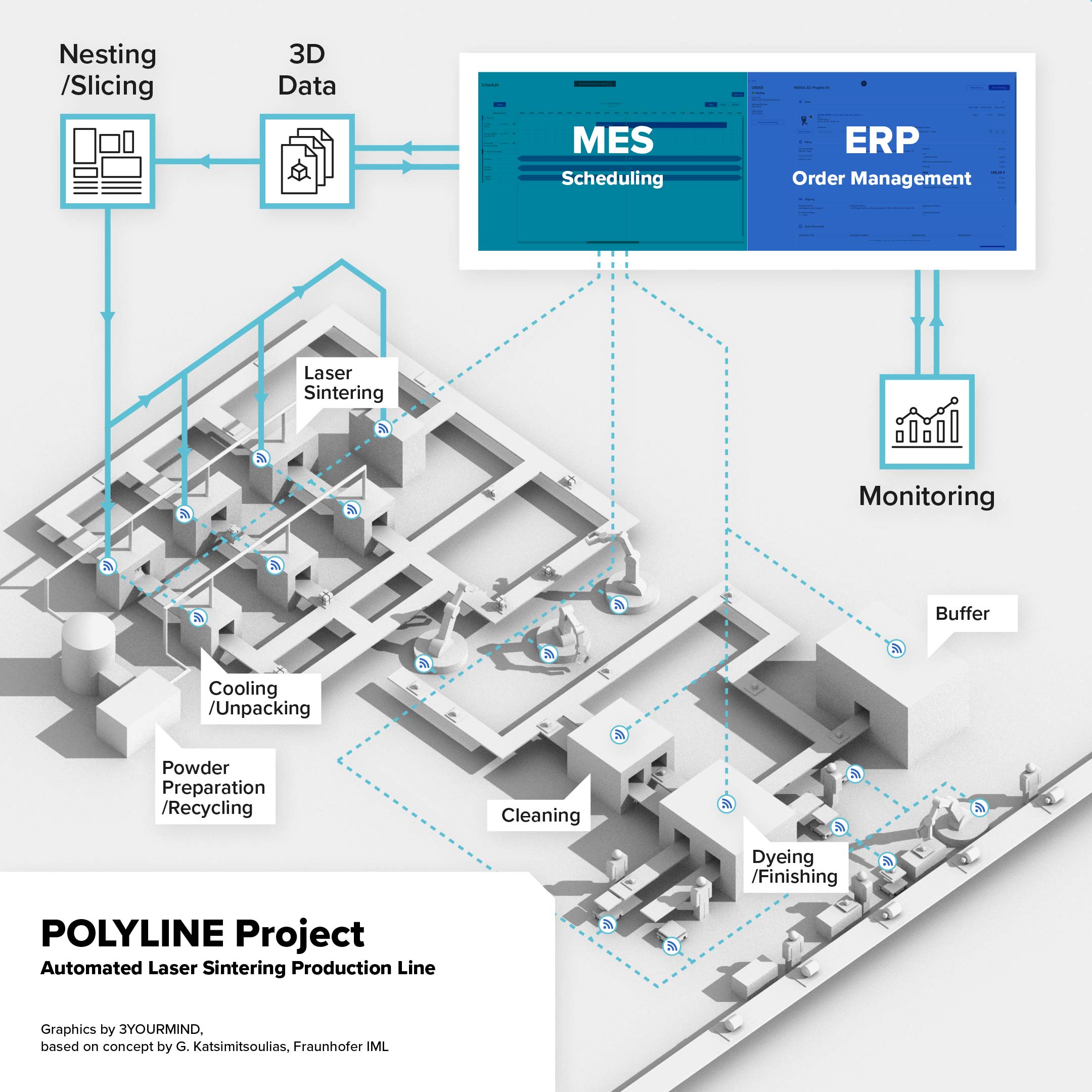 The current economy and COVID-19 will force supply chains to reevaluate and reconsider alternative ways of production. Whether it's from the disruption of work methods or a commitment to safety and sanitation, manufacturers must identify nontraditional ways to get raw materials or produce goods. With the increasing likelihood of business and facilities shutting down, it's more important than ever to expand the partner network and find ways to become more agile. The 3YOURMIND software is a solution to both these problems. First, it bridges the gap and provides access for production facilities to a vast partner network, and second, it enables repeatability and predictability through data threads automation. The factory of the future relies on data, resiliency and innovation.
About POLYLINE
The goal of the POLYLINE Project - Integrated Production Line Applications for Polymer-based AM Technologies - is to further develop additive manufacturing using polymer-based Laser Sintering (LS) into an automated and efficient production process. Through this project, the AM technology will be enabled to meet classical manufacturing processes (machining, casting, etc.) at an equal level in high-throughput line production systems. The project goal is reflected by the name "Line Integration of Additive Manufacturing Technologies" within the framework of the funding program "Photonics Research, Germany," published in the Federal Gazette on September 27, 2017.

EOS, along with other partners, will provide the project lead. EOS is the worldwide technology and quality leader for high-end solutions in additive manufacturing (AM). Further project partners include the Fraunhofer IML and Fraunhofer IGVC, the Technical University of Dortmund, Paderbon University, Augsburg University and Duisburg-Essen University - each will perform important research and development, part analysis and process evaluation to contribute to moving POLYLINE to the highest level of AM automation.
About 3YOURMIND
3YOURMIND offers Enterprise Software to automate additive manufacturing processes and workflows for leading companies and 3D print services. The software suite from 3YOURMIND standardizes key processes along the AM supply chain. The Agile PLM analyzes historical part data or use cases from employees to build a digital inventory of AM-ready parts. The Agile ERP automates AM pricing, production recommendations and routine business processes for order management. The Agile MES optimizes scheduling, transparency and quality assurance tracking along the AM production chain.
Customers who have successfully integrated 3YOURMIND products into AM production include Erpro Group, Deutsche Bahn, GKN, DB Schenker, Rapid Manuf, Postnord, EOS, and other undisclosed enterprise companies. We work closely with our clients to optimize AM workflows and increase their adoption of additive manufacturing. Our platforms are creating the pathways that will move the world into the next generation of manufacturing - Agile Manufacturing.
The company is headquartered in Berlin for programming, project management, marketing and sales. Our Consulting division is headquartered in Wroclaw, Poland. We have additional Sales and Project Management offices in Munich, Paris, Barcelona, New York, Detroit and San Francisco. Our team of 65+ people is a combination of experts with years of experience in the additive manufacturing industry and young innovative talents.