Pros and Cons of On Demand Manufacturing Software
Blog
3YOURMIND
|
August 10, 2023
| 6 min read
Shopping around for software to supercharge your 3D printing capabilities? First, explore the pros and cons of on-demand manufacturing software.

On-demand manufacturing, which utilizes 3D printing to produce parts at the point of need, is one area that is witnessing increasing adoption in critical sectors like energy and defense. However, as these capabilities continue to grow, new systems and workflows are required to improve automation and reduce the time and labor requirements required to maintain internal processes.

In this respect, on-demand manufacturing software can be a valuable tool for managing industrial 3D printing activities effectively and scaling production to justify equipment and material investments.

In this article, we will discuss the pros and cons of on-demand manufacturing and the points you should consider when selecting a software vendor.

Pros of On-Demand Manufacturing Software
Here are seven ways that on-demand manufacturing software can add value to existing 3D printing operations:
1. Streamlined 3D Printing Workflow:

On-demand manufacturing software can help streamline the entire 3D printing workflow, from part identification and order management to printing and part traceability. Organizations can save time and reduce manual errors by utilizing software tools that streamline these processes.
On-demand manufacturing software can analyze parts for 3D printability.
2. Design Optimization:

Some software platforms may offer design analysis and optimization tools to improve the manufacturability of 3D models, resulting in better final products and reducing the chance of failed prints. Some optimization characteristics include printability analysis, material and technology suggestions, and potential savings calculations to determine whether a part is suitable for on-demand manufacturing.
3. Order Tracking and Management:

These software solutions often come with order-tracking features, allowing you to monitor the progress of each order in real-time. This helps you take operations from whiteboards or spreadsheets to an integrated system that offers organizations greater transparency from the time the part is order to the moment its delivered.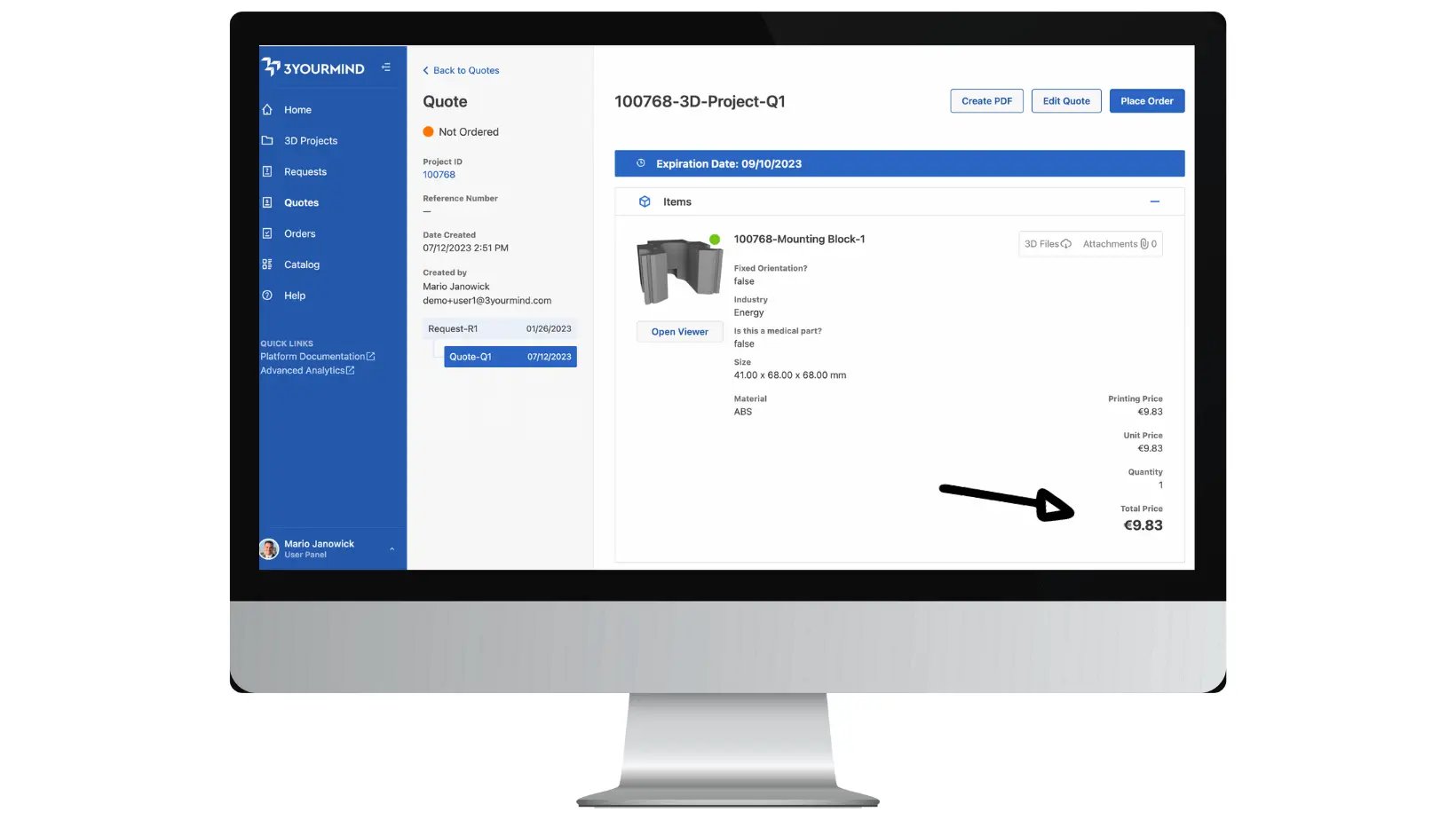 On-demand manufacturing software can save time with automatic price quoting.
4. Automated Quoting:

With integrated quoting capabilities, software can generate accurate price quotes automatically based on factors like material, print time, and complexity. By providing pricing and delivery timelines upfront, procurement personnel can save time communicating with suppliers so that they can order and receive parts faster.
5. Digital Inventory Management:

Many on-demand manufacturing software solutions offer digital inventory management features, enabling companies to view and order qualified additive parts, view stock levels, and forecast production and material costs from a desktop or mobile device. For industries operating equipment with legacy or obsolete parts, optimizing parts for 3D printing can reduce overstock costs and mitigate operational downtime.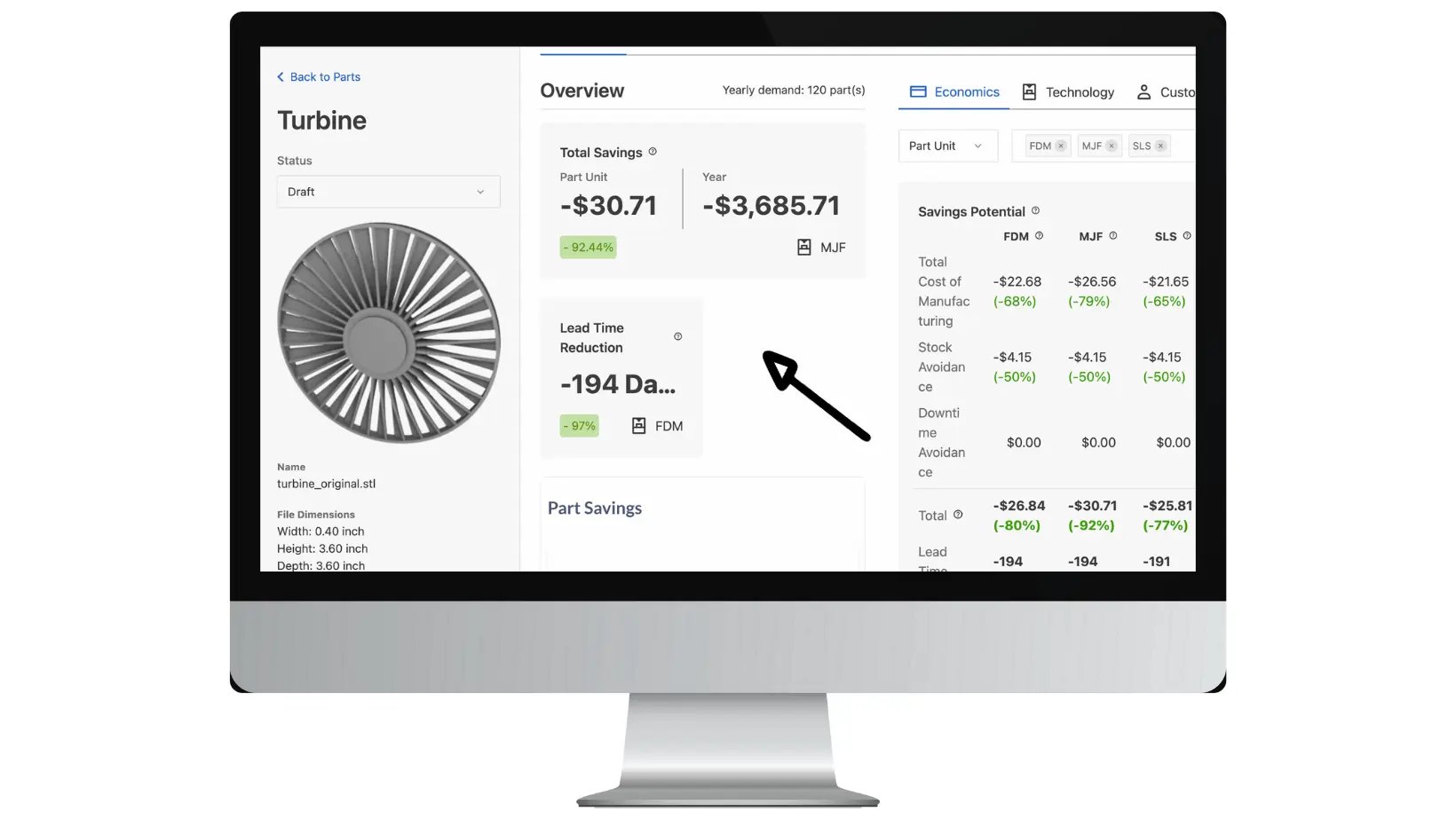 On-demand manufacturing software displays cost savings and lead time reduction for each part.
6. Cost Efficiency:

By optimizing production processes and material usage, on-demand manufacturing software can help reduce overall production costs, improving your bottom line. Whether that means increasing machine utilization through production scheduling or build orientation, or helping companies find the best use cases for 3D printing, software can help realize significant cost savings.
7. Centralized Communication:

Software can also simplify communication streams by providing a centralized platform for stakeholders, including customers, designers, and production teams, to leave comments and ask questions. This can foster better collaboration and reduce communication gaps.
Cons of On-Demand Manufacturing Software:
On-demand manufacturing can offer substantial benefits, but it's not always the right fit for every company. Here are several topics to consider when purchasing on-demand manufacturing software.
1. Initial Investment:

Implementing on-demand manufacturing software requires a significant initial investment, including the cost of the software itself, 3D printing material and equipment, training for employees, and possible hardware upgrades to support the system.

Although software can be a significant investment, well-positioned companies with existing additive capabilities can use software to generate a faster return on equipment investment by ramping up production capabilities and reducing operational downtime via shorter manufacturing lead times.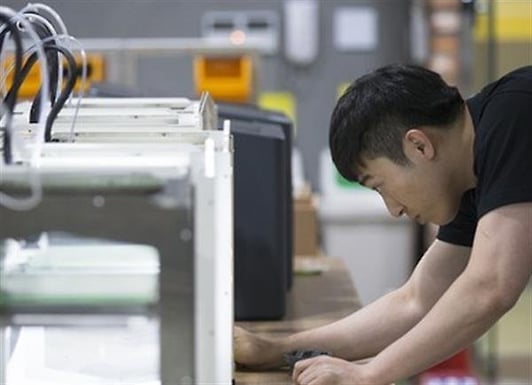 Photo: In 2017, the South Korean government announced a $37M investment in 3D printing
2. Learning Curve:

Like with any new software, some employees might resist adopting another tool. Your team will require time and proper training to get familiar with the platform and its features, potentially causing a temporary slowdown in productivity.
3. Dependence on Technology:

Relying heavily on software for critical tasks means you must ensure system reliability and data security to avoid potential disruptions or data breaches. Choosing a software vendor that prioritizes security concerns is paramount.

3YOURMIND has a proven security track record as a preferred partner of the U.S. Secretary of Defense. For more information, request to receive a copy of our security documentation.
4. Integration Challenges:

Integrating new software with existing systems, such as ERP or PLM solutions, might be challenging and could require additional development or customization. With this in mind, 3YOURMIND prides itself on offering an open API platform.

3YOURMIND integrates with dozens of different software tools and equipment from leading additive machine manufacturers so that our software addresses your needs while adapting to your organization's existing processes.

5. Limited Customization:

Depending on the chosen software, you may encounter limitations in customizing the platform to meet specific, unique business needs. Off-the-shelf software systems are often cheaper than more flexible, customizable software solutions, but it comes at a cost.

3YOURMIND's customer success team works with clients at an early stage to discuss the core problems each organization needs to solve, security needs, and feature and integration requests.
6. Technical Support:

The quality and availability of technical support can vary among different software providers. It's essential to choose a vendor with a strong track record of support and updates.

3YOURMIND has team members located in Europe and North America to field technical support concerns. Our product development department releases software updates each month to ensure that clients can access the newest features.

Check out some of our most recent feature updates here.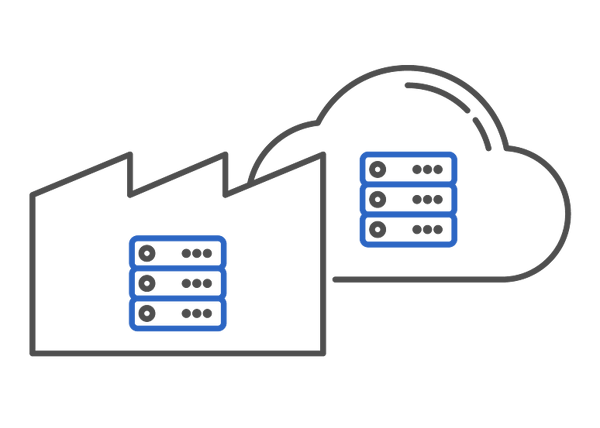 3YOURMIND offers cloud-based and on-premise software installations.
7. Internet Connectivity:

Many on-demand manufacturing software solutions are cloud-based, so a stable internet connection is essential to access and use the software effectively. However, 3YOURMIND offers both cloud-based and on-premise software installations to support the needs of small, medium, and enterprise customers.



Not sure which is the right choice for your business? Read "Should Your Manufacturing Software be Cloud vs. On-Premise?"
3YOURMIND On-Demand Manufacturing Software
Before choosing an on-demand manufacturing software, carefully assess your specific requirements, and consider factors such as cost, ease of use, scalability, and customer reviews. It's also a good idea to request demos or trial periods to see if the software aligns well with your business needs.
3YOURMIND's on-demand manufacturing software is trusted by major organizations like the U.S. Navy, the U.S. Marine Corps., and chemical manufacturer Arkema. Request a software demonstration today to learn why.
Request Software Demo